I do like coffee, but probably would not go this far. Except in an emergency!
So why did the blog move? It's all Tucker's fault! And actually I'm thankful. I've had www.johndobbs.com as a domain for a while now, but have not updated in quite a while. It didn't make sense to pay for webspace and domain and not use it regularly … while on the other hand I was wearing out this free spot on WordPress. I actually had not thought about it until Tucker questioned why I was doing that. Good thoughts … I thought to myself. Thanks Tucker!
I've always edited my webspace with Microsoft Front Page. I enjoyed using that program but MS decided it was a dead end and stopped updating it. So I knew it was only a matter of time before most web hosts stopped using the specialized Front Page "extentions" that were required for its use. (has anyone fallen asleep yet? I thought so.)
When Tucker made his suggestion I started looking at how to use the free wordpress software on your own webspace and realized I was either going to have to spend hours studying that situation or just not do it. A little light went off in my brain (this was a significant event that doesn't happen often) and I remembered Dee Andrews going on about how helpful the Theobloggers had been to her on this matter. Then I made the connection to my chatroom friend Big Bad Brad Palmore.
Turns out that Dee was right … this has been a painless experience and I'm happy (very very happy) with the communication, help, response … everything with Theobloggers. If you'd like to move your blog up a level I recommend highly the service Theobloggers offer. (And please do … especially if you still use blogspot or blogger.com … the rest of us are SOOOOO tired of filling in forty blanks and reading verification letters in order to leave a comment … so much so that I hardly ever leave a comment if I have to go through that hoo-hah). But I digress…
Next I'm going to get Brad to help me with our church website. Looking forward to unveiling a new site.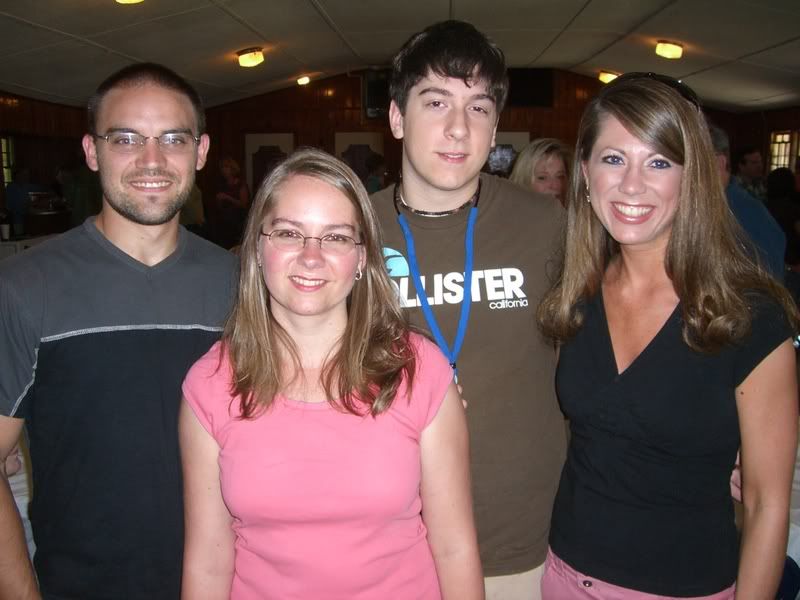 Robert & Nicole, John Robert, cousin Raychel
As for other goings-on … I'm on the Coast with Maggy's parents and one of her sisters. Our daughter Nicole has a birthday tomorrow  – her first without John Robert in 18 years. Happy 32nd Birthday Nicole! Yep I told the number! Nicole has been so helpful to us while we're in Monroe and she lives on the Coast. We love her and her family! Grandson Blake, 18 months, is running around the house and we're enjoying playing with him. Granddaughter Claire is at school so we'll see her later on today. I presume son in law Robert is at work and we'll see him later on as well. Looking forward to getting together tonight with everyone!
I'll be returning to Monroe tomorrow. Maggy will be staying behind to do some packing.
Thanks for stopping by.