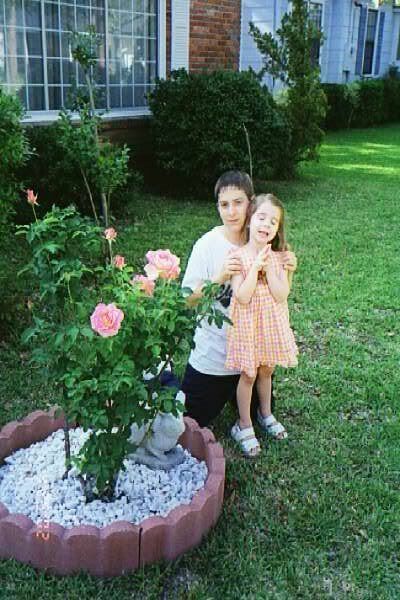 John Robert and Claire by the rose bush Mrs. Dot Killingsworth planted in our yard in Pascagoula in 2002.

I am feeling conflicted about several things … and friend Craig suggested that I share it with you, my readers. After all, you keep coming back here…hundreds of you a day … I guess you want to know what's up in dobberworld. I am so thankful for this lifeline to a world full of praying Christians. It has been a lifesaver for me. Thank you.
Today we had kind of an unexpected slap in the face. We received our copy of John Robert's death certificate. I've never seen one of those before. Maggy nor I were anticipating the bluntness of such a dispassionate document. One of John's friends, and someone he grew up with at church, came over and spent the afternoon with Maggy. I'm glad Britney came over. She's quite a beauty…and as sweet as she is beautiful. Neighbors Roger and Pam spent some time with us also. Then someone looked at the house. We had a good supper and visiting time with Nicole and the grandkids. Tomorrow is the Realtor Preview from 10-12. Then tomorrow night we plan to have supper with the Dodd's in Pensacola.
My mom will have her fifth chemo treatment tomorrow … fifth out of six. There is light at the end of the tunnel, but her health has declined and she has felt worse this round than before. My dad has good and bad days, wears a pain patch. On his good days he seems really good.
So, there's a lot of stuff going on in our world. And in my mind. We've taken a lot of "firsts" by just walking into them and experiencing them. I can't think of too many things we have avoided or walked away from. We spent a week in the Mountains just days after John Robert's funeral. We had time with Maggy's family and then with friends in Monroe. Then we came back to the house where John grew up. It is so empty without him. It's so quiet. No matter how strong the reality of John's death is…we still have a hard time grasping it.
And now that's it, right? Time to get on with it. Pick out a house. Get the financing in order. Tie up the loose ends. Get to work at the new ministry. Just … make it happen. That's what I am afraid people are thinking. Judgmental of me, isn't it … to believe that. It's not others, it's me thinking these things. I've been told to take all the time I need … I've tried to manage this grief and it's managing me.
Those who have lost children have written over and over in cards and e-mails. The pain never ends. It changes character. I'm told I'll regard it differently. But it will never go away. I don't want my love for John Robert to fade … and I don't want to hurt any more … and those things can't happen in the same heart. A hurt we need to learn to live with… that's our plight.
I feel like I need more time to grapple with this. There are some things I need to do that I haven't done yet. I've been staying so busy that I haven't let myself spend time reading Scripture, journaling, praying. I pray a lot, but it's just prayers of desperation and heartache. Maybe that's all I can do. I don't know. I really feel torn between making myself get back to my work … and wondering how I can offer words, support, ministry to others from this place in my life. I really want to have more time away…alone with Maggy … not knowing if that's leading me closer to healing or just running away. I want to spend time alone without leaving Maggy alone … not knowing if this is something she needs or just something I want. Not knowing how to take the next steps …
I'm a bit confused about it all. I don't expect great answers in the comments … just letting you know how conflicted my heart is right now.
By the way, I signed up for a daily e-mail that has blessed my heart through GRIEFSHARE. If you suffer from grief, I encourage you to receive and read these daily blessings.
Thanks again for reading… and for the fountain of encouragements we have received in dozens of cards, e-mails, texts, and other communications. We love you.