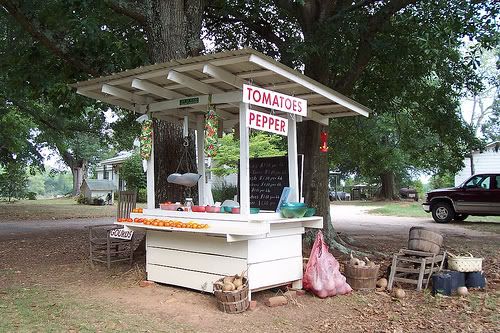 I love to visit roadside stands
When autumn fills the air –
A grand array of sighs and scents
Is waiting for me there.

There are rosy, red-cheeked apples
In baskets all around,
And bright orange pumpkins, big and small,
Lie heapes upon the ground.

The jugs of cider stand in rows
Like liquid burnished gold;
The Indian corn hung all about
Is lovely to behold.

There's nothing I can think of that
Can truly quite compare
With roadside stands in autumn and
Their harvest beauty, rare.

— Peggy Mlcuch,
The Gift of Autumn
Weekend readership on the blog takes a nosedive, so thanks for stopping by! My "Fall Friends" blog didn't quite take off like I had hoped, so I'm going to move those posts here and try to stop compulsively creating new blogs for people to visit!
Tomorrow the fair will conclude. My last time at the booth is from 11 – 2. Today we ran out of hats. I was really glad … because I gave away a dozen or so when a class of some mentally challenged teenagers came by the booth with their teacher. I had a great conversation with the teachers and saw that the kids were eyeing the hats. I asked them if they wanted a hat and they all did. They all lit up like Christmas trees and every one of them put on a hat that said "Jesus Likes You". Jesus loves these pure hearted strugglers. The world wouldn't give them a passing glance, but Jesus would hug them and then climb up on a cross to pay the most extravagant price ever paid….for them. I also met a lady in a wheelchair who asked for a Bible and a tract on how to get to heaven. I gave her a tract given to us by the Hillsboro church about understanding the book that leads to the door of heaven. She said that she planned to be at the door … to greet her husband there. He died a year ago this week. I didn't know what to say, so I just said, "it's been a hard year." She shook her head and wheeled away down the aisle. Among the visitors to our fair booth were the broken, disenfranchised, lonely, and struggling…. the ones Jesus loved so much. I hope they are encouraged by our simple message.
For God did not send his Son into the world to condemn the world, but to save the world through him. (John 3:17) That's been our theme for the past month. Sunday I plan to preach just from this text.  "Jesus Loves You" is true. I remember as a child singing "Jesus Loves Me".  The most beloved Scripture says "God so loved the world…" All of those statements are true. They should ring throughout the ages from Christians everywhere! Yet this week we chose to tell our community that Jesus likes them too.
But, this is a culture of technology and busyness. We receive electronic communications from one another, but seldom a hand written letter. We're just as likely to meet a mate on e-Harmony as we are bumping carts in the grocery store. We can order any item we need online and never have to encounter other humans. People change jobs and locations so frequently that we often never get to know our neighbors. Our lives are so jammed full that nothing else can be put into them.
What suffers in all of this is the natural process of building relationships. When, exactly, would you fit a new friend into your busy schedule? How many Christians have shoved Jesus to the back burner, and then totally off the stove, because He just doesn't fit in our secularized life patterns?
Jesus doesn't hate the world. Christians are often seen as critics of all people, especially people who do not have the exact same religious beliefs. The idea that Jesus actually likes us is foreign. It catches the eye. We hesitate when we see it. What a shame! If you take a look at the Gospels you will see Jesus pushing all things out of the way so that he could build relationships with sinners. Our goal should be to so demonstrate the "like" of Jesus for all people that it will be no surprise at all for them to hear that Jesus likes them. In order for this to be expressed from Jesus, it will have to be expressed through us. So how are you going to work on that this week?   
I don't have a lot of links tonight, but I did have a laugh earlier. Move over Rob Bell! Rob fans must see THIS! I love Rob … and I enjoyed this sendup of one of my favorite Nooma videos as well.
Thanks for reading!