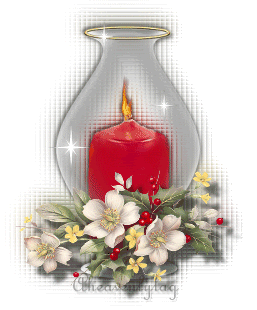 Christmas is a
Whispering candle
heard all over the world…
Whose fragile and flickering
Light touched men
Everywhere,
leading them through
The night…in prayer
And understanding,
So that all men might share
The sacredness of the season,
And walk and talk together
With the Prince of Peace.
— Annette Victorin
I hope you are enjoying the preparations for the season. I pray that this time of year brings you much joy and peace.
Happy Birthday to John Bunyon (1628), no kin to Paul.  His The Pilgrim's Progress is still read by many. Poet William Blake (1757). Happy Birthday Motown Style to Berry Gordy, Jr. who set the recording business ablaze with that Motown sound. A political happy birthday to Gary Hart (1936), who will forever be associated with Monkey Business. A short Happy Birthday to Randy Newman who's song, Short People, made a lot of people mad. A snazzy jazzy happy birthday to Paul Schaffer (1949) for keeping the tunes going on Late Nite With David Letterman. Anna Nicole Smith was born on this day in 1967. Her life looked glamorous to many in the world, but it was full of tragedy and ended much too soon.
LINKS
God's Bringing Donna To Church.
J-Wild Shares About An Angel in Queens.
Craig shares some thoughts from the Island of Misfit Toys.
Thanks for reading,
john