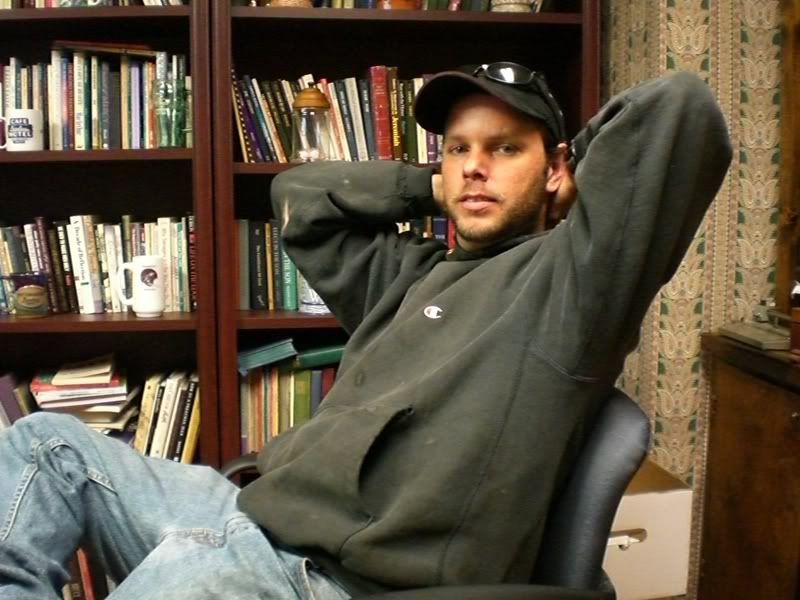 Robbie Woods Relaxing in John's Office This Afternoon.
Good news today for Robbie Woods. I know many of you who have been down here to volunteer think of Robbie often. He is always surprised to hear from you, and he is always blessed. Robbie has done very well at his job and has been able to save some money. Tonight he moved into an apartment of his own. You have to understand what a great accomplishment this is, and how far Robbie has come since he walked into the Central facility with nothing but the clothes on his back. Alcohol and drugs robbed him of many blessings over the past years, but he is doing great in recovery. I am proud of Robbie. I am always blessed by his ready smile, his willingness to help, and his humility in the shadow of Jesus Christ. Occasionally he gets to update his blog, located HERE.
As I sit at my dining room table and type these words on a crystal clear night, a full moon is shining through the window. A candle is in the window sill with a calming flicker and a relaxing aroma. It's been a cold, crisp day here on the Coast. For a third night we are under a freeze warning.
 For some reason some comments are being held back as SPAM by the filter at WordPress. Nick, your posts were being held back. I approved them today. Thanks for the birthday wishes…I did finally receive them! Thanks for posting! I'll try to check the filter more often.
Bringing about a tremor in The Force, Richland Hills Church of Christ, the largest acappella church of Christ in America with 4,000 members (Did I get an e-mail that said 7,000 members?) has decided to add a Sunday night worship service using instrumental music and a second communion to their schedule. This is not lost on the bloggers….I'm sure there will be much typing through the nights to come.
Jeff Richardson posts Leroy Garrett's reaction.
I looked for some negative reactions but could not find any neg-a-blogs. I'm sure they're out there. Post a link if you find them. I'd like to know your reaction … where does this lead…how important is it to most churches of Christ?
 ***More Links***
Larry James describes A Post Office I'd like to visit!
Mark Elrod tells us What's wrong with this world.
Bobby Cohoon suggests that Elvis had it right.
Bobby Valentine departs from the cheer of the season to post a message for those going through a rough time. The holidays aren't happy times for everyone.
Mason McClain has a new post from True Hope.
Thanks for reading. I hope you are warm in your home, and aflame in your soul.