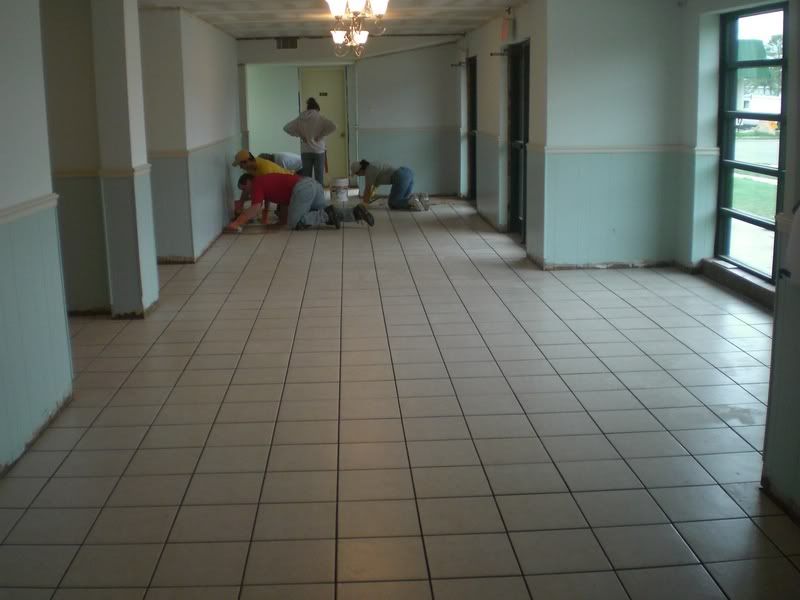 The two crews from Pennsylvania continue their tireless work here on the Coast. The Gorham family is an amazing bunch of people. They have put down almost 3,000 ceramic tile. Today they are finishing up with grouting and should be through with the auditorium, foyer, and one hallway. They also put down carpet squares in the auditorium and it all looks just awesome. These folks drove all night Sunday night, and got out of their vehicles ready to work on Monday morning. They do not come to the dining hall for meals, simply asking for it to be brought to them so they can take the shortest break possible. They get right back to work and work late into the night. Much of this work is done on their knees, which has to be hard on them. They have a smile on their face and they look like they love what they are doing. The other group from Troy has been helping in a variety of ways, and they are so energetic and happy as well. They cleaned one lady's yard this week. She came to dinner and the devotional last night. Two years ago her doctors gave her six months to live. She has terminal cancer, but continues on with a positive attitude. The Pennsylvania teens touched her heart. And they have touched mine. I believe we are surrounded by angels at all times. This week, however, they are visible.
Yesterday afternoon Jack Watson and his wife (pardon me for not remembering her name) from Colorado were in town to survey our work. They left Colorado to work in New Orleans for a week following Katrina. They ended up in Slidell on the Machen property working with Hilltop Missions and stayed for several weeks. They are part of a small Colorado church that has seen more than half of its members make a journey to the Coast for repair work. Hilltop Missions has closed their efforts and the Watsons were scouting across the Mississippi Coast to get an update and be available to share what they found back home in Colorado. They are delightful people and we had a great visit. As we talked Jack said something that triggered a memory. We met back in late 2005 at the Orange Grove Church of Christ when there were some meetings of all those involved in hurricane relief. Those meetings were organized by Roger Mills. It is not only interesting to meet so many people, it is interesting to re-meet them later and make connections.
Last night we met at the dining hall for our Wednesday assembly. We sang spontaneously for a while, with various ones starting songs. Then we had a sharing time when anyone could share what was on their heart. That was a touching time as well. Afterwards, Calvin the Youth Minister from Troy, PA gave us some words of encouragement from the book of James. It was a great night and I think we all felt enriched and encouraged.
Today is my day to visit with Jim Ingram. Unfortunately Jim is home sick in bed. He has been sick for several weeks, but it seems to be getting worse. Say a prayer for him. I believe David Kilbern has some people he wants me to see and I will do that when he gets some time in his busy schedule.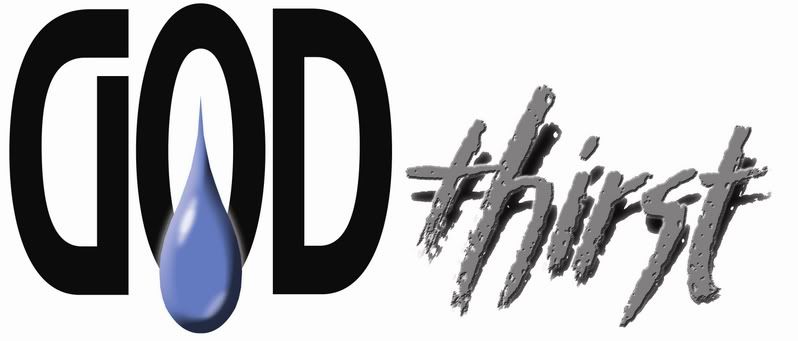 We are now set for the GodThirst project to begin. We should start making calls soon to invite people to a Community Bible Class January 29 – February 2. These classes will be taught by Danny Dodd and Gary Kirkendall. We will have a supper Friday night for all those who participated. So far we have three men (maybe a few more) from Hillsboro Church of Christ who plan to be in all week to conduct studies and make contacts. If anyone else would like to join in, please let me know asap.  
Then what? After that week we will be following up with contacts and making new contacts. We invite those who have a heart for it to come and help us make these contacts. We have already served many people and have reason to believe that they might be interested in spiritual conversation.
On February 12th we will begin a Monday night class for those who are struggling in life. Our first study will be Stop The Madness: Freedom From Addictions. This is a Bible study based on the twelve steps of AA. We hope this will complement the ongoing outreach that we are establishing and give people hope for recovery.
Our next outreach event will be a weekend with Marvin Phillips coming up in April.
This post is getting long, so I will end it here. I do want to end with a question, though. I have a theory that it is easier to be involved in mission work someplace other than home. If this is true, my question is Why? I have also found that it is easier to get people to help with sheetrock and debris removal than it is to get people to come and help with sharing the good news of Jesus. I have had little to no success in even getting fellow preachers to be interested in that. If my first theory is true, then it would seem that it would be a breeze to get a bunch of preachers to come down to do go through this city with the Gospel. Instead, two of my best friends are the only 'preacher' volunteers. Interesting.
 ***LINKS***
Living with the family in a FEMA trailer isn't a disaster, but the close quarters and lack of privacy won't be missed
Trey Morgan wonders why we worry.
Victor Knowles on feeling a sense of 'Woe'!
Al Sturgeon's interesting and untold Katrina story.
Gilbert Kerrigan reflects on being too busy for love.
Jim Martin tells of The Church of the Second Chance.
Lee Hodges remembers an American Gigolo who became a Preacher!
Thanks for reading!