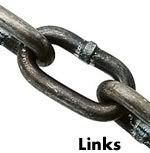 I do have some things I want to write about, but just for now…there are several things going on in the blog world that deserve your attention. Here are some links in case there are some things you've overlooked:
On the Hippo blog there is a hearty discussion on Homelessness heating up.
Keep up with Tony, a homeless Canadian HERE.
Darin continues with GREAT outreach ideas…and shares them with us.
If you haven't been keeping up with Doug's struggle with addiction and recovery, you're missing an awesome testimony of the power of God in this man's life.
Prayer Requests on Several Blogs Today
Neva is seeking prayer for a licensing exam today.
Mike asks for prayer for the Edds family, who lost a son in Iraq this week.
Pray for the family of Milton Bates, the founder of IDES, who died this week.
Mike requests prayers for the Bennett family, and their struggle with a newborn who has serious health problems.
Al asks prayers for his neice who is having serious health problems.
I ask you to pray for Ron Webb. I have asked prayers for him before. Yesterday he had a FOURTH hernia repair surgery in the same area. Severe infection has set in. This man has given his life in service and encouragement of others. He is a great Christian brother. Pray for him and his wife Kathy as they struggle in recovery.