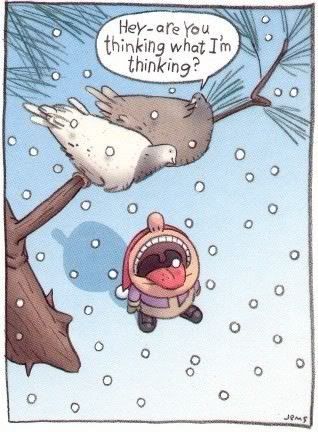 Today is mostly a day of preparation for Sunday. Now truthfully sometimes that drags out into Friday and Saturday, but I would like to do better. I know some preachers who are getting their sermons done on Monday. I don't get that. If I did my sermon on Monday I think it would be stale and far from my mind on Sunday. Heh…you think it's stale now? Just think! Anyway, I work better under pressure. Being organized is not all it's cooked up to be.
Which explains why I can't tell my mother what our Christmas plans are. I understand why she wants to know, it's just that I do not like to think that far in advance. My goodness, that's 15 days away. I guess some of you OCD types already have your Christmas shopping done. I know people who ran out and shopped all night long on Black Friday in order to get $5.00 off of something or other. I'd rather pay extra. Then again, they have all their gifts wrapped and under their tree. I'm still working on getting motivated to get a gift or two bought. Christmas is really about food anyway. Who needs gifts when you can eat bread pudding or hot yeast rolls? Personal apologies to Dr. Atkins.
Barna has come out with a report examining the state of mainline protestant churches. Those bodies are typically considered to be the American Baptist Churches, Episcopal Churches, Evangelical Lutheran Church, Presbyterian Church (USA), United Church of Christ, and United Methodist Church. A few highlights:
Mainline churches are attracting just enough newcomers to maintain attendance levels. The current median is 99 adults.
The number of single adults has risen, now representing 39% of all adult attenders.
Young adults (25 or younger) are 6% of the national population.  However, they only make up 2% of the attenders at mainline churches.
Hispanics make up 16% of the US population, but only 6% of mainline attenders.
Volunteerism is down by 21% since 1998.
Adult Sunday school involvement has also declined by 17% since 1998.
Only 49% describe themselves as "absolutely committed to Christianity"
72% say they are more likely to develop their own religious beliefs than to adopt those taught by their church
Less than half contend that the Bible is accurate in the life principles it teaches.
The median age of Senior Pastors is 55 – representing a combination of too few young pastors entering the ranks and a large share of older pastors not retiring.
There's more. So if you're not depressed enough you can read the entire report.
I have over 1,000 blogposts piled up in my Google Reader. That means I have not only been neglecting my blog, but all of yours. Sorry about that. Kinda.
What are you thinking about today?