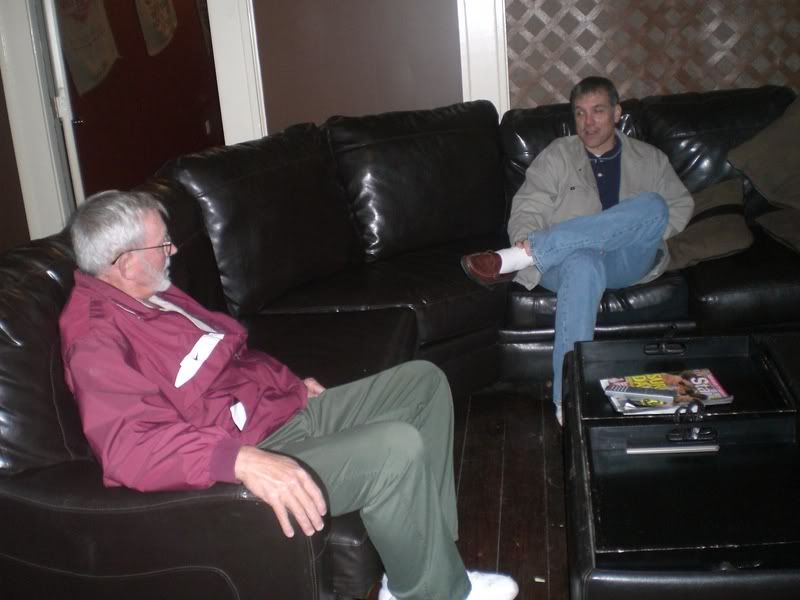 Jim Ingram and Danny Dodd Relaxing at Dough Joe's.
This morning our work crew was down in number just a bit. Danny Dodd and Jim Ingram took some names and headed out. Greg and Kevin were given a pretty hefty area to work and they headed to their duties. I worked on the name / address lists most of the day and have finished that duty. Maggy fixed a great lunch with sausage jambalaya, green beans, garlic toast, pecan pie and coconut pie. Needless to say I'm not doing to well on my diet with her fixing all these goodies.
Late in the afternoon Jim bought Danny and me a smoothie at Dough Joes. He got his typical passionfruit and strawberry, Danny and I got the caramel smoothie (the best!). We skipped supper, for good reason! We gave one community member a ride to the study tonight. We had a great crowd of 35 present. The discussion was centered on the question, "What Does God Expect of Me?" Once again Danny demonstrated the gifts God has given him in teaching and sharing the Scriptures. We had a handful of visitors and a few extra members tonight. It went very well.
Tonight during class I was surprised to see Bill Ford walk in the room. Bill is from Senatobia, Mississippi and has been down here several times to work. He is a great brother and I look forward to spending some time with him.
The reports from the community visits are sobering. Every address we are visiting represents someone who came into our building at some point since the storm and filled out some paperwork requesting help. Now all these months later when we visit the addresses we are finding abandoned houses, empty lots, and in some cases new residents. In one visit today the person that Jim and Danny were attempting to see had passed away a few days ago. This illustrates for me the necessity of this work we are doing, and how important it is to get out into this community as soon as possible. If you would like to come and do this kind of visiting / listening / loving / sharing … don't wait for a big team. A retired couple, or a couple of friends coming to stay for a week or two would be awesome.
Tomorrow we will have breakfast at 8:00 and then head out to visit even more people. We will probably have our best crowd Wednesday night, as some of our usual Wednesday Night crowd will be present to add to the number of those of us who have been assembling. Gary Kirkendall is scheduled to arrive in the late afternoon. Gary is also gifted in communicating the Word and we look forward to two nights of great teaching!
David Kilbern has been sick this week, so please say a prayer for him. He continues to work in spite of his illness. Pray that his antibiotics take effect soon.
Something I want to address when I get a bit more information is that we are now talking to people who have been given notice that they must be out of their FEMA camper in the next 15 days. Housing is impossible. A friend is paying over $200 per week for a one room studio apartment that is sparsely furnished. It's a high price, yes … but the truth is they are not available. They fill up as soon as they become available.
 I have no links to share with you today … things are just ramped up a bit and there's not much time to look at the blogs or the news! Of course there are some links to the right, and those are the ones I check most often. Click on the "Daily Trivia" and play … it is usually a 60 second game! Thanks for reading!