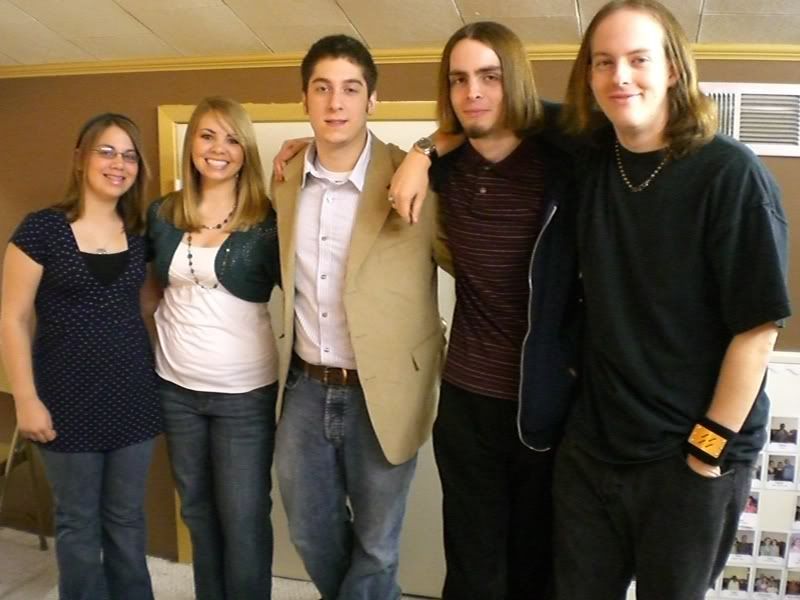 Amanda, Britney, John Robert, Ben, and Will
The word on my mind today is THERE.
I wasn't there. I wasn't there when John Robert was born. Friends Sandra and Otis Bowman took Maggy to the hospital and she was transported to Jackson, MS on that night. Nicole was there. Otis and Sandra were there. I was on my way back from a youth rally in Tulsa where I had represented Magnolia Bible College. I came home to an empty house, went out to the hospital where they vaguely remembered which hospital Maggy had been sent to. I drove to Jackson in a flash … went to the wrong hospital … got to the right hospital and couldn't find a door open … and by the time I got there, John was born. He was a month early and so tiny and fragile. Maggy's blood pressure shot up and stayed up for a week. Scary times. I wasn't there when he was born. I wasn't there for the past four months as I commuted from Pascagoula to Monroe. We had texts and phone calls and a few visits … a trip to Tulsa … but I wasn't there much. And when he died, I wasn't there. I know I was there for a lot … but that beginning … and that ending… I wasn't there.
Our friends were there. Both in the beginning and in the end, friends and family surrounded us. As look back over the past three weeks, I'm amazed at how 'there' our friends and family have been. If there is any comfort in the presence of friends, and to some degree there is, we have received more than could have been expected. For the funeral there were friends and family who sacrificed to drive to the Coast … at great cost … to be there. Friends and family gathered at the cemetery to hear last words said over John's body. They were there. Today Cecil and Patti May will travel from Kentucky to Pigeon Forge to spend some time with us. They couldn't be there in person because their son was getting married while John was being buried. Still, they wanted to spend some time with us. And so they will be here … and we know in their hearts they were there.
THERE. In the ultimate sense, God is there….here. I don't know what the afterlife looks like in every way … I'm not sure how it all works. Some say we are asleep until the resurrection. Some say we are in paradise awaiting that last day. There are a thousand speculative (and some kooky) ideas about it all. I know … I'm the preacher…I'm supposed to know all these things. I don't know what THERE is like for John at the moment. I expect he entered THERE with fear, surprise, and even confusion. Perhaps John Robert, compassionate boy that he was, cried for our pain. I think that for whatever John was experiencing, Jesus was THERE with John Robert. And soon he would wipe the tears from John's face. Perhaps he would begin to introduce John to those who loved him from afar….family members and friends who already wait.
If that's not the way it is, and I'm not sure anyone knows exactly how it is, then I think it's even better. Better than we can imagine. Why? Because Jesus died to SAVE us … and RESCUE us … not from the troubles of life but from death. And John trusted Him. And I think it's better than we can imagine because God, Jesus, and the Holy Spirit, and tens of thousands of angels are THERE.
And the only thing we can do now is keep our hope and trust in Jesus, so that we one day will also be THERE.
And I heard a loud voice from the throne saying, "Now the dwelling of God is with men, and he will live with them. They will be his people, and God himself will be with them and be their God. He will wipe every tear from their eyes. There will be no more death or mourning or crying or pain, for the old order of things has passed away." He who was seated on the throne said, "I am making everything new!" Revelation 21:3-5
[youtube=http://www.youtube.com/watch?v=S70gwFcSK9k]
Another song wouldn't play here. When I Get Where I'm Going can be viewed HERE.