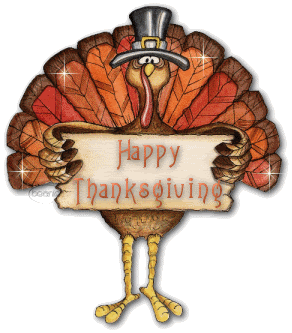 Audio of this message can be heard HERE.
THE REAL THANKSGIVING TURKEYS: UNGRATEFUL PEOPLE
This week many will enjoy family time, travel, and feasting! As you gather around the table where a nice cooked turkey will be on display, will you be seated at the table next to a REAL Thanksgiving Turkey? The Real Thanksgiving turkeys are ungrateful people! We often forget the blessings that God has given us.  Psalm 103:2 says, "Praise the Lord, O my soul and forget not all his benefits."
1. Why Do We So Often Forget All His Benefits?
*The Accumulation of things. (We are Rich. Travel, a/c heat, TV, Computers, Restaurants, ease and luxury.) Does it cause us o be more satisfied or discontent?
*Dependence on self.  This is the belief that we deserve and have earned all that we have. Bumper sticker that reflects this attitude: "I couldn't have done it without me."
*Influence of others. "Bad company corrupts good character" (1 Corinthians 15:33) Time spent with negative ungrateful people will influence us!
*Difficult circumstances. It is hard to rejoice and be thankful when life has gotten the best of us.
2. How To Cultivate The Attitude of Gratitude
– Remember the source of blessings. Psalm 107:15 "Let them give thanks to the Lord for his unfailing love and his wonderful deeds for men." James 1:17 "Every good and perfect gift is from above, coming down from the Father of the heavenly lights, who does not change like shifting shadows."
– Decide to avoid complaining – a barrier to gratitude. Numbers 11:1 – God was unhappy with Israel's complaining. Psalm 77:3 "I complained and my spirit was overwhelmed." See Philippians 2:14.
– Make the personal Choice to be Thankful. Philippians 4:4 "Rejoice in the Lord always. I will say it again: Rejoice!" 1 Thessalonians 5:18 "Give thanks in all circumstances, for this is God's will for you in Christ Jesus."
– Get in the habit of giving thanks. Daniel was in the habit of getting on his knees to pray three times every day. Find something every day for which to give thanks. Count your many  blessings, name them one by one, and it will surprise you what the Lord has done.
Riddle: What is freshly cleaned, has 18 legs, and could be called "turkey"?  Luke 17:11-19 contains the answer. A group of ungrateful lepers set free by Jesus…except for one, the rest were turkeys. Let's do our best to be the one… the grateful ones.