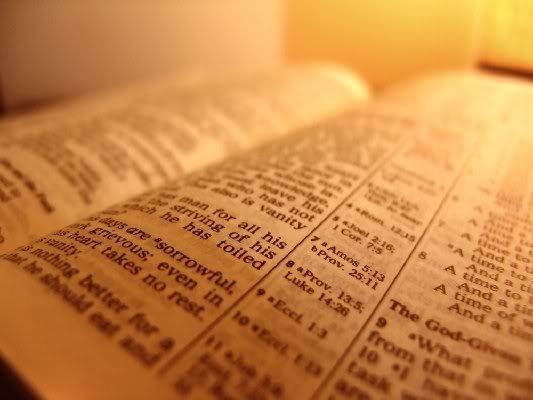 I would guess that most people reading this post have several Bibles in their possession. Which Bible is your favorite? There are various kinds of Bibles for various purposes. I'm not asking today about versions. I have a shelf in my office with several versions available. I'm thinking more about the physical book.
Since I'm a preacher and I'm very dependent on that book when I'm actually preaching, I try to keep a Bible that has certain qualities. (If I were Trey Morgan I would initiate a ten-point list here. But I'm not.)
I need large print. I actually have a prescription for bi-focals but I haven't filled it yet. I can't afford to wait for my eyes to focus on tiny print during a sermon. The larger the better, actually. But I also want a Bible that is a good size … not some 20 lb. giant brick of a book. I'd like to comfortably be able to pick it up and hold it while preaching without losing my balance or throwing my back out trying to lift it. Often I just want a New Testament. I have some with small print that are easy to manage, but not that easy to read. And I want it to look nice.
Recently I was with my friend Danny Dodd and we were looking at Bibles in Barnes and Nobles. We were having this conversation about Bibles. Danny confessed to rolling his Bibles up and folding them in half while preaching. He then complained that his Bibles just don't last! Imagine that! I do not need a Bible that can endure that kind of abuse … just a Bible I can read that isn't huge.
So I've been looking for the perfect Bible to use in class and preaching. I'd like to have two. One, just a New Testament, large print. The other, just a Bible, large print but not a gigantic book. Too much to ask? Yes. Because it is hard to buy JUST the Bible. I'm not sure publishers publish JUST Bibles any more. Every Bible I pick up has a theme with notes … hundreds of notes… adding to the bulk of the book. Notes for women, men, military, hunters, children, teenagers, those in recovery, archeology, general study notes, apologetics , life applications, and more. Then there are the personality driven Bibles from people like Max Lucado, John McArthur, John Maxwell, Thomas Kinkade, and Joyce Meyer. It seems to me that if I needed information from these various authors on these various subjects I could buy other books.
My favorite study Bible is a Thompson Chain Reference Bible that James Guy got for me after the storm as a gift. It has both sentimental value and exceptional study tools. But for preaching and teaching, it's too big. So do you have the perfect Bible to teach and preach from? Tell me about it!
A few personal notes:
*I found my parents yesterday in good spirits … feeling fairly well. I enjoyed my too-short visit with them.
*We have a big weekend at Forsythe planned this weekend and I'll be sharing that here.
*Goodbye Kristy Lee Cook from American Idol. She'll have a country CD out before long I'm sure.
*Gary Kirkendall is blogging again. That's good news.
*Our house is now on the market with an official "For Sale" sign in the front yard.
*Please pray for the family of Joe Wrape. Joe was formerly the preacher for the Nichols Street Church of Christ in Bay City, Texas – where my brother and his family attend. A few years ago the Wrapes moved to North Georgia. Last night while preaching the final night of a revival in Bay City, Joe suffered a fatal heart attack. Please pray for his widow and and their grown children. Joe was a passionate preacher … one of those plain spoken preachers that didn't leave you wondering what he was talking about … yet filled with the grace and love of Jesus. One of Joe's slogans that appeared on the church bulletin was: Our Only Limitation Is The Size of Our Faith. He lived this slogan. This was a shocking event for this sweet and active church … say a prayer for all of them.
Thanks for reading.