It's Saturday, and a beautiful one in Monroe, Louisiana. I had breakfast with a friend, a haircut, a few hospital visits, and have been waiting for Maggy to make it back home. She is coming with neighbor Pam. The plan is that we will return to Pascagoula next week to pack. There are some things up in the air which may change those plans. I'll keep you posted, natch.
I spent the first night in our new house last night. Elder Ronnie Teague spent all afternoon helping me move furniture (Thanks Ronnie!). We had a good time talking together. My back yard has more mosquitoes per square inch than any place on earth I think. Today in my back yard I have seen three giant blue jays (eating too many mosquitoes?), a squirrel running along the fence, yellow butterflies carelessly floating around, and a couple of doves. I our window looking out over the back yard. Peaceful. I also saw a small spider with a big web. Yay for the spider. Maybe lots of mosquitoes will get in his web! I did not destroy it! I am having a bit of an emergency is that the coffee maker won't fit under the cabinets … they're too low to the countertops.  Looks like I'll have to go to Starbucks every morning.
I have visited with Houston Bass a few times recently at the Maggie Moo stand in the mall. I've mentioned Houston's new blog. At 16 years old, that boy's got some great writing talent being sharpened. I met Houston's boss last night, Kelli. Kelli is daughter of Carol Ogle. Royce and Carol are such good friends and it was good to meet their daughter. It was especially good when she gave me a free scoop of ice cream! According to Royce's blog, they are down in Bayou LaBatre. Read his post to find out the great stuff they are involved in there.
Anyhoo, Houston suggested that I write a review of MaggieMoo's on my blog. I had never heard of MaggieMoo's Ie Cream (affectionately known as 'The Moo') until I relocated to West Monroe. It's hard for me to write a complete review, until I have sampled all of their offerings. However, the Dark Chocolate, Espresso Bean, and Udderly Cream are all fantastic…with no ice crystals or stale taste. I am waiting for them to have peanut butter so I can test that one. They have all kinds of treats, including cakes and shakes. If I keep going there I'm going to start mooing instead of preaching I think! Anyway… if you're in the PecanLand Mall stop by and say howdy to Kelli or Houston or whoever is working that day. Tell them you read about it here and you'll get a free scoop of ice cream. (They actually didn't promise this, so let me just say that it might not happen, but it could happen. Results not typical.)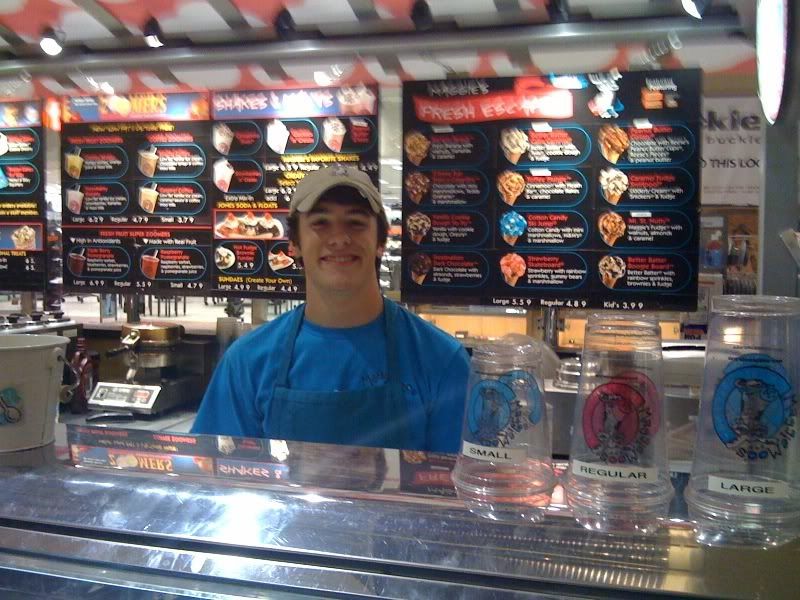 Houston at work at MaggieMoo's
Hope your Saturday is a good one.
John