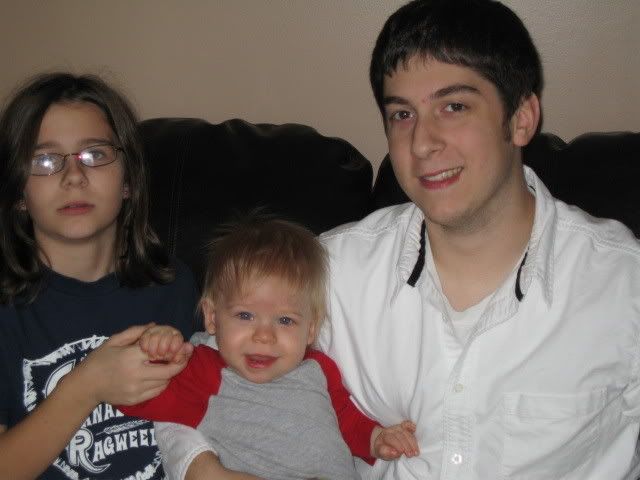 Claire, Blake, and John Robert, Christmas 2007
And so we now enter the long dark walk through the rest of our lives without John Robert. Yesterday his remains were planted underneath the reaching branches of a live oak tree. I think he would like his place, although I'm sure he likes his current home much better. When we visited that site today, I failed to see the beauty of the serene setting. I looked at the other grave markers with a new mission … to find a suitable one for my son. My son. God, that hurts.
Grief is something I have observed in others, never considered as my own future. I'm unprepared to do this. I do not know how to do it. I don't know what actions might be good ideas and which ones might be bad ideas. And my grief is closely akin to self pity … and concern for my Maggy. We'll be cruising along with peace in our hearts one minute, but the sudden storms of grief attack like a punch in the stomach.
At one moment I wish to stop breathing and join John Robert. In the next moment I hug Claire and Blake and Nicole and Robert. I think sometimes that I've nothing left to give. Then I remember that John was not a quitter. I'm plagued by thinking of his last moments, but I ask God to release me from that so I can focus on his greatest moments. We laugh around the table and I know John would approve, but then there is that special laugh that is missing from the soundtrack. If one more person tells me that God needed another angel, I may help them become one.
Questions. Too many questions. At night my mind will not turn off. Why did God not protect him? Perhaps God did protect him from something coming that we could never guess. Why John instead of some crummy kid who could care less about others? Why not John, so the crummy kid might hear the gospel? How can someone so hurt comfort someone so hurt? Why didn't John just call me?
I'm afraid. I'm afraid I'll forget the thousand little things about John Robert that gave me such delight. I'm afraid I'll forget the sound of his voice. I called his cell phone yesterday … it still goes straight to voicemail … I heard his voice. The phone hasn't been found.  I'm afraid I'll forget the things he liked and the things he didn't. I'm afraid I've already forgotten the way he smelled or how his back felt when I would hug him. The years can cloud the mind, you know.
I'm aware of other concerns. The sale of my house. The illness of my parents. The purchase of a new house. A church family in Monroe.
I'm mad.
I'm thankful that we have had support like no one ever had. Prayers from around the world have calmed our storm at times. We are safely nested between the warm heart of a church family that has loved us for 16 years and the outreaching church family that has accepted us so fully into their lives so quickly. I'm thankful for the endless calls and texts, e-mails and comments … hugs and tears.
And we feel a strong need to be alone. With each other. Maggy has not yet read all of the comments over the past week. She will be weeping over the computer as I did. In a few days we are going to sequester ourselves for a brief period of time.
After that we must clean John Robert's room, and make our way through his things. Sometime soon we want to visit the peaceful Smoky Mountains for some healing time. I don't know if we'll get to do that or not, but we both desire to see, breath, and absorb that beauty.
This is what I wrote on John Robert's MySpace page: I will never take a step, turn a corner, open a door, or close my eyes in sleep without thinking of you John Robert. There will always be an empty chair, a broken place, and a missing piece of my life. I do not know how to live without you. Dad
.
God, please heal my shattered heart. But not too soon … this should hurt.
The king was shaken. He went up to the room over the gateway and wept. As he went, he said: "O my son Absalom! My son, my son Absalom! If only I had died instead of you—O Absalom, my son, my son!"
2 Samuel 18:33
Thanks for reading,
JD