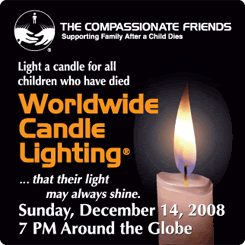 Tomorrow is the world wide candle lighting sponsored by The Compassionate Friends in honor of children who have died. TCF is an international organization that was formed out of a common pain, the loss of a child. All around the world tomorrow night parents will light candles in memory of their children who are no longer with them. Anyone is welcome to attend the service.
Here in Monroe we will meet at Grace Episcopal Church, 1400 North 4th Street, at 6:30. There will be readings and music. A place is prepared for pictures of our children. A preacher usually has duties on Sunday night, but our elders at Forsythe not only allowed us to be away for this event, they communicated that they desired for us to attend it. I appreciate them, and Forsythe Avenue church, so much for the support over this past year.
A Remembrance Book will also be available on The Compassionate Friends' website on that day to post a message or tribute. There is likely a candle lighting service somewhere near you. A listing is on the TCF website.
[youtube=http://www.youtube.com/watch?v=N1TDZWr_j_I]
As for us, not only has our church family been of great support and encouragement, so has our online community. The many many expressions of ongoing prayers and love has been a grand encouragement to us. Not only through e-mails and posts, there have been calls and cards, gifts and letters from you. Thank you.  You have been a big part of our survival through many tough days. And there are tough days to come we know.
We are blessed to be surrounded by many Compassionate Friends, including the most compassionate friend of all, Jesus Christ.
Thanks for reading,
John