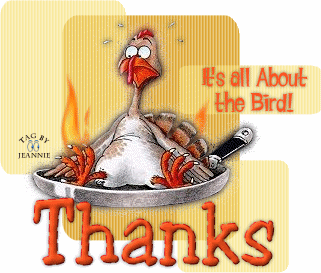 I wanted to mention an online group that you may not know about. John's Journal is a Yahoo group I created some years ago. It's not a busy list, but I think it's a pretty good one. We keep an active prayer list going there, as well as just some encouraging writings we share with one another. Click on the link above to join in, if you like.
I know that Thanksgiving is NEXT week, but with traveling and such I'm thinking that readership may be down a bit. I'm also thinking that writership may be down a bit as well. We will have to see. But I thought I'd share a few Thanksgiving humors with you. It's never too soon for a laugh. I'm not sure who wrote them and you may get them in your inbox about 40 times over the next several days.
A THANKSGIVING POEM
T'was the night of Thanksgiving, I just couldn't sleep
I tried counting backwards, I tried counting sheep.
The leftovers beckoned – the dark meat and white
But I fought the temptation with all of my might.
Tossing and turning with anticipation
The thought of a snack became infatuation!
So I raced to the kitchen, flung open the door
And gazed at the fridge, full of goodies galore.
I gobbled up turkey and buttered potatoes
Pickles and carrots, beans and tomatoes.
I felt myself swelling so plump and so round,
'Til all of a sudden I rose off the ground.
I crashed through the ceiling, floating into the sky
With a mouthful of pudding and a handful of pie.
But, I managed to yell as I soared past the trees…
Happy eating to all – Pass the cranberries please.
May your stuffing be tasty, may your turkey be plump
May your potatoes and gravy have nary a lump.
May your yams be delicious, May your pies take the prize,
May your Thanksgiving dinner stay off of your thighs.
May your Thanksgiving be Blessed!
~~~~~~~~~~~~~~~
Little Logan and his family were having Thanksgiving dinner at his grandmother's house. Everyone was seated round the table as the food was being served. When little Logan received his plate, he started eating right away.
"Logan, wait until we say our prayer," his mother reminded him.
"I don't need to," the little boy replied.
"Of course you do!" his mother insisted, "We say a prayer before eating at our house."
"That's at our house," Logan explained, "but this is Grandma's house, and she knows how to cook!"
~~~~~~~~~~~~~~~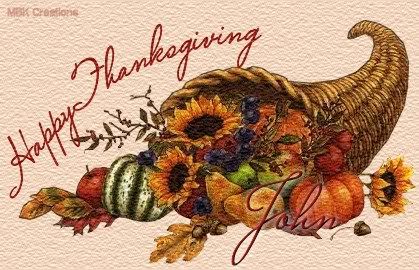 Well, have a great Sunday and I hope to check in again soon. Thanks for reading. I appreciate you.