Greetings Friends. Well, that is a kind of a frilly graphic up there…but … I liked the sentiment. Hope you've had a great weekend and enjoy a great time of worship and friendship with your church Family. I noticed on their sign that my Presbyterian friend a few blocks away is preaching on the subject "The Kind of Music God Likes". I am really tempted to go listen to that message, but I have duties that make that a time problem for me. I think his sermon will be different than the ones I've heard on that subject!
I noticed that none of the bloggers I read have mourned the passing of Mary Lillian Ellison. At 84 she died unexpectedly during a surgery to repair a broken shoulder.  For those who don't know, Lillian was better known as the Fabulous Moolah. She was the women's champion in professional wrestling for many years. According to the linked article, Moolah was asked what she thought about the fans booing her. "I loved when they got mad at me," she told The State newspaper of Columbia in 2005. "They called me all kinds of names. I said: 'Call me anything you want. You don't write my check.'" I'm sure you will all want to read her profile HERE. In THIS STORY, her preacher told of how Ellison had re-earned his respect by demonstrating a wrestling move on him at 76 years old. Ric Flair was the only headlining wrestling star at her funeral. In my teens and twenties I was a huge wrestling fan. I never missed those fantastic three-hour Monday night wrestling extravaganzas on USA network from Madison Square Garden. The color commentary from Gorilla Monsoon (RIP) and Jesse "The Body" Ventura (later Governor Ventura), Bobby 'The Brain' Heenan and Lord Alfred Hayes (RIP) kept me in stitches. I also have some Danny Dodd-related wrestling stories for another day. By the way, Danny and I never wrestled each other but we did think about becoming a tag-team – one day when laughter took over common sense. Now you know about Moolah. I've done my job.
For something more serious, here are today's sermon notes:
LESSONS FROM TEN LEPERS Luke 17:11-19
I read a true story of a side-wheeler steamboat that was plodding across Lake Michigan on a stormy night in 1860. That steam-boat was rammed by another vessel and both ships began to sink. There were 393 steamboat passengers that were forced to jump into the cold lake. Many of them tried to swim toward the lights of the shore, but only 114 made it. A young college student, Edward Spencer, Repeatedly swam from shore and helped 17 of them make it the rest of the way. Many years later on Spencer's 80th birthday, someone asked him what he remembered about that experience. He said, "Not one of the 17 returned to thank me."
One of the most beautiful things we can do is to express gratitude for what we have been given. Read Luke 17:11-19. I want you to not only put yourself in their shoes, but to realize that they are us. What do we need to see in this account?
OUR NEED FOR MERCY (11-13)
Lepers were social outcasts and medical disasters. Incurable and unable to help themselves.  Lepers must stand at a distance and warn anyone approaching them. McGarvey says that the disease dries the bronchial tubes and their voices would be dry, harsh, raspy. When they called out to Jesus, it would not be eloquent or pretty.
We are no different than the lepers. Without God we are lost, wretched, miserable. But in Jesus we find salvation, blessings, His Spirit, His church… and still yet we can wander away. We find ourselves calling out for his mercy 
throughout our lives. We are in desperate need of His mercy.
OUR NEED FOR HEALING  (14)
Jesus gave a simple instruction. They followed it, they were cleansed. Jesus did not hesitate to heal them – he wanted to … he cared about people.
If Jesus walked by today, of what would you ask Him to heal you? Physical pain, broken heart, addiction, hatred, grudges, abuse? Jesus is here and we need to ask him to bring healing in all things. We need to be healed of our sin. Jesus is not dispensing his Mercy begrudgingly, but generously. Jesus is willing to heal your deepest wounds. 
OUR NEED TO PRAISE (15)
Only one came back to express his praise to God. He came back shouting God's praises. He was truly thankful for what God had done…the others were glad to be healed I'm sure, but they did not give the credit and glory to God.  Gratitude unexpressed is ingratitude. Psalm 95:2 says "Let us come into his presence with thanksgiving; let us make a joyful noise to him with songs of praise!"
The disappointment of Jesus (17-19) is evident. Jesus was pleased with the Samaritan who returned to praise Him, but he was disappointed that only 1 returned. The Samaritan was the least likely to return. Do you think today that Jesus is often
 asking, "Where are the Nine?" If he is, is he asking about you? Do not be like the 9 – receiving God's mercy but never expressing thanks. Do be like the 1 – the unlikely one to return and say 'Thank You'.
What do you see in that story?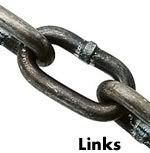 If you haven't joined the throngs reading Michael Spencer, see to it! If you haven't read one of his most recent posts, you have missed statements such as…"The more the atheist talks, the more Christianity makes sense to me. When I listen to atheists describe their noble vision of existence in an absurd and meaningless world where their firm and rational grasp on reality can give meaning to all of us … I'm so grateful for the doctrine of total depravity I could write an entire musical about it." And if you're not listening to his podcast… I'm worried about your commitment to blogworld! His most recent post ponders the question, "Who's The Next Billy Graham?"
The Truth about "Why I Drank". It takes truth to overcome the lies of the Enemy. Though I do not drink, I see other things here that relate to the bad habits and struggles I do have.
Adam Ellis' Spiritual Formation links.
Terri's first report after her trip to Honduras.
Tommy's Touting a Mississippi State Victory Over Bama.
There will likely be  very few posts over the next four or five days. Unless another wrestler passes from this life to the big squared circle in the sky. Thanks for reading.