Thanks for the response to my last post. I appreciate you guys so much. There is a new MARCH picture album on my picture pages (link is to the right) with a few pictures of the people I described in the last post and their homes. All of the volunteers have now returned home. Sunday morning about 2:00 a.m. we expect Andy Roberts and his Penn State University students to arrive. These 80 energetic college students will certainly bring a lot of joy and excitement with them! Several have asked, after reading the last post, "what can we do?" The two greatest needs have always been manpower and money. So you can propose and plan a trip from your place. Do not feel you have to be confined to those in your congregation …. you can spread the word to every church in town. Service does not wear a denominational name.  But not everyone can come, and I understand that. You can work on some donations for our Hurricane Relief fund in your area. If you would like me to come and speak in your area I will be glad to do so. If you are at Tulsa Workshop, I'll be speaking first thing Thursday morning. The CD should be available to purchase if you are unable to attend that. Hope that helps.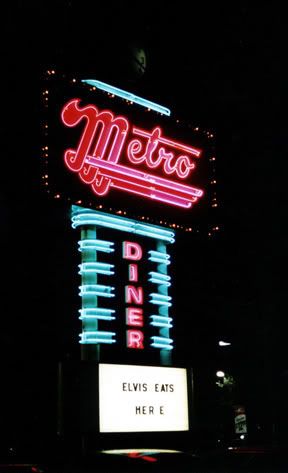 Now, it's the weekend and it's time to lighten up. Someone asked how my South Beach Diet is going, and it is going great! I am slowly losing weight while enjoying healthier food. My 12-step class is helping me deal with my addiction to eating / food. But my plan while I am in Tulsa is to enjoy some of the food places we normally enjoy. So what's on the menu in Tulsa? We will definitely plan some stops at…
*Casa Viva (Formerly Casa Bonita). Casa Bonita was closed last year during workshop. The food is OK, the atmosphere is fantastic, and the large number of people they can serve make it a great choice close to the workshop. Plus, it's a tradition.
*Metro Diner. Several years ago I was driving around at lunch time and found the Metro Diner. I really liked that place. It is always on my list of places to eat. However, THIS NEWS STORY suggests that it is closed. Now it's a parking lot. Oh well.
*Rib Crib. They're everywhere, but they're good. I used to always stop at Rosie's Rib Joint, but it takes a BIG bite out of my budget. It is, however, fabulous.
*I don't know the name of it but there's like this giant panda Chinese place right down from Garnett Church that we usually visit.
*Villiage Inn. They are open late, so they are perfect for after-evening-session get-togethers. They have great coffee…amazing pies …. good food. My son prefers to go to IHOP, but for my money, it's Village Inn. And there are several of them. One year I missed a gathering of friends by going to TWO wrong locations and by the time I discovered the right one it was too late. Ah well. I decided to have some pie and not worry about it.
There are thousands of places to eat in Tulsa. It's hard to get away from the workshop, though, with so much going on. But I manage! Where do you like to rest, relax, and eat?
Check out the video on Trey's blog today. It's great.
Al Sturgeon traces the path of a miracle on his blog.
J Wild has a super cool video on his blog that traces the path of the development of the internet.
Daylight Savings Time begins tomorrow at 2 a.m.
It's Daylight Savings Time, but will your computer know what time it is?
End Daylight Savings Time! Please… if for no other reason than the thousands of people who do not know how to reset the clock in the dashboard of their car. Like me.
Hope you're having a great weekend. Thanks for reading.
john