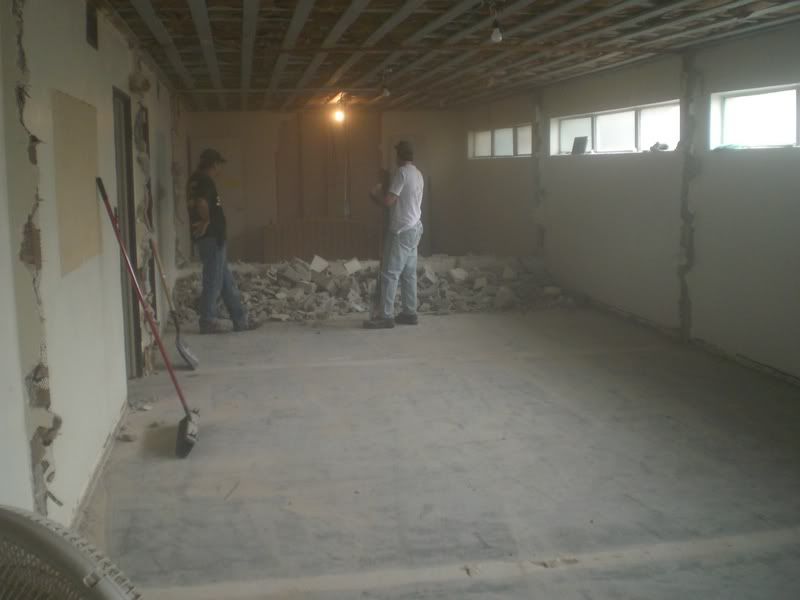 Welcome Lurkers! We have some self-admitted lurkers leaving comments on my last post, and I welcome you. I know from looking at my blog stats that between 100-150 people a day are reading my posts. I feel famous! Seriously, I'm glad you're reading and thanks for leaving a note. I'm not sure what inspired the encouragments left for me, but I feel very blessed to have read them. Thank you! 
Today was spent working at the church building. There is so much to do! Several rooms were cleared out in order to knock out walls to create a fellowship area on the South side of the building! All of the stuff in those rooms have to go somewhere else. The pulpit area was a 'storage area' during the installation of the floors, so we had to clear it away. Jim Wetherington, one of our elders, placed carpet in three rooms today. There are some pictures on my picture page, but I didn't catch a pic of e
veryone who was there. Blog readers Bud and Cathy were there. I told him how much I appreciated his comment in my last post. It was a great day and things look so much better. There is still a lot of painting, moving, re-assembling kind of stuff to do. Our library is a mess and that will be an all day project. We have no workers for the next few weeks unless some of you want to come over and help!
Maggy and I ate at Arbys for lunch today. Their Martha's Vineyard Salad is GREAT! Have you tried it?
This evening our granddaughter Claire is spending the night. So I'm looking forward to Skipbo, Sorry, Sequence, Uno, and anything else she thinks she'd like to play.
I received word from Tom Hixson in Pennsylvania that he has recruited three or four skilled workers to come down in March and work. Tom is such an outstanding Christian man. I love his spirit. He has been down three our four times himself. Then he goes home and starts calling and talking to others about coming down to help. You gotta love this guy! He has the biggest heart…and he just keeps telling the story. We have had several work crews down because of word-of-mouth-testimony. The people who put the flooring down in our building this week found out about our efforts through a Campus Minister who has been down here to work. If all of those who have been down here will work to recruit others to come down and work, the rebuild ministry will continue in a strong way.
 Everyone who comes here says "no one knows the needs that continue to exist here". I keep trying to get the message out myself, but maybe it is something you just have to see.
One encouragement I give to people is not to wait until you have a big group. Two skilled workers paired with a couple of unskilled workers can get an enormous amount of work done in a week's time. If you have any questions about coming down, give me a call. My phone number remains on the Katrina page of our website at www.123Jesus.com .
I hope your Sunday is spent with the saints in your congregation who need your encouragement and love. And I hope your Sunday afternoon is spent with the Saints cheering them on to a victory!
***LINKS***
Steve Thurman reflects on heaven.
How would you feel if the kid next door was actually a kidnap victim?
Bible Explorer free Bible study software. Pretty good with excellent add-ons that can be purchased.