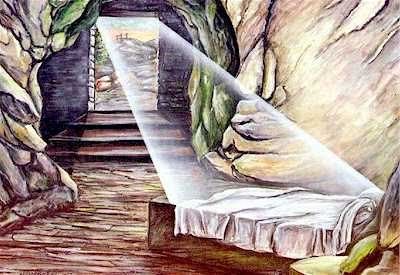 I have spent the past few days visiting with people of other faiths. I attended a Pastor's Breakfast at First Presbyterian and met several ministers from my town. I'm ashamed to say I did not know many of them. But we enjoyed a good conversation, sharing our wishes for Easter for our churches, and praying together. We talked about our doctrinal diversity and how this cannot be the basis for our serving the community together. We must all serve side by side in the name of our common Lord Jesus.
Yesterday afternoon I attended the Good Friday service at the Salvation Army. They had three 'worship stations' set up that truly blessed me. At one of them you were to pick up a paper heart and write your sins on it … with a pointed stick. It was affirmed that God could read the sins on that heart. Then you were to take the heart and place it in a bowl with red water in it. Use the stick to poke it down underneath the cleansing blood of Christ … and keep the stick – now stained with red – as a reminder of the power of the blood of Christ. At another station you were to dip your fingers in a water bowl and remember God's washing your sins away. A towel was there to dry your fingers. Then you were to dip your fingers in a second time. This time you were to think of somone you needed to forgive. This time you were to let your fingers dry by air, recognizing the difficulty of this task and how it sometimes takes time. Testimonies were received from the audience and I spoke for a moment about what I gained from the stations. Refreshments were enjoyed and conversation.
Tonight I attended a program called "The Sacrifice" at the Christian Life International church. It was a dramatic presentation of the death and resurrection of Christ. It included things that did not speak to me, but I'm sure spoke to others … interpretive dance was one of those things. He did not talk about salvation in the same way I would.  The minister mentioned me from the stage and thanked me for coming. He affirmed over and over that the church was not a building and that it was not even a denomination.
I was blessed by the resurrection message at each house of faith. I did not agree with everything nor was I asked my opinion. But I was blessed
in different ways at each place. Maybe there is a blessing and a word from the Lord in most places that exalt Christ as Lord.
Tonight at that program were some kids from California. They have been a part of our work crew this week. They are mostly not oriented to Christianity. They are in some ways troubled youth. During the invitation part of that program tonight, three of them raised their hands during that "every head bowed, every eye closed" prayer. They were touched by what they had experienced. Not long after getting home, I received a call from the church building where they are staying. Guess what? Three of them want to be baptized. So a few of us studied with them for about an hour. A fourth also decided to claim Christ as Lord. 
I say all of this to share with you what's going on with me … but also… to ask us to reflect on how the resurrection message is one that brings new life into the dead places of our hearts.
Have you ever noticed how we speak to one another? While the religious world around us moves closer to undenominational thinking … we cut one another apart. I know they have their problems too… and they do enough of their own cutting … but that's not what I've been seeing.
And also the resurrection message is one of mission and liveliness. Has our tired faith left us listless in the pew? Are we watching ten or fifteen people do everything while we fill our lives with anything but service and compassion for others?
None of the Disciples complained about the resurrection. Thomas wanted to know for sure, but he didn't complain. Perhaps some focus on the resurrection will outshine our complaints and grumbles. 
Let's let the resurrection life of Jesus be in our lives … bringing life to death. I have been blessed by the experiences of this weekend. And I have emerged from those experiences so in love with my own church family. The warmth, concern, and care I feel each time we gather cannot be compared to anywhere else! We've got our own issues to deal with, but there is a lot of love in that bunch of folks!
I hope your Resurrection Sunday is filled with spiritual life that flows from the heart of our Savior and Friend, Jesus Christ. Thanks for reading.
john