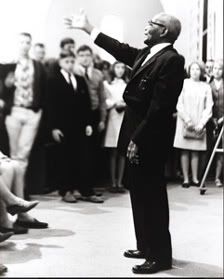 It is Black History Month and the kids in schools are learning about many of the African Americans who have contributed so much to our way of life … many of whom we did not learn about in school before such a project existed. I've been thinking lately about my own Black history, and the influences in my own life from my darker brothers and sisters. Granddaughter Claire talked about the "brown children" at her school when she was much younger. I wish we could retain our innocence when it comes to race relations as adults. But I don't think that any of us would make a claim to such innocence.
When I was a young teenager, about age 13, a new class was started at our church called Lads to Leaders. After a while in that class I, along with others, was given the chance to speak at the Louisa Street Church of Christ in New Orleans. This predominately African American congregation was led by Rudolph James. He met with those of us who were preaching in his office. He spoke with us while the congregation was singing. Then we walked down the aisle with him and prepared to address this church. Their resounding amens and excessive encouragements stirred something in my young heart that I have never forgotten.  Later when the Barton Avenue Church of Christ in Luling, LA had brother James for a meeting, I was astounded at his power in the pulpit. His preaching brought some black families into our church, and so he definitely has a place in my black history.
Going to school in South Louisiana public schools I always had black friends. Horace, Richard, Tina … names that stick with me. My High School Spanish teacher was a beautiful African American lady and I enjoyed being her student. In terms of entertainment, I thought that the comedies featuring African Americans on television were the funniest. I still love Sanford and Son, Good Times, and The Jeffersons. But my experience with black culture was minimal overall. Until I went to college.
At age 17 I moved to Kosciusko, Mississippi and lived in "the mansion" – the dormitory facility of Magnolia Bible College. It was just an old house and far from a mansion, but there were treasures within. I took a little while to warm up to being the only white person in the residence, though. Once I knew that I was welcomed and befriended, lifelong friendships were forged. Laughter was frequently heard in the halls of that old house. James Evans, Stanley Williams, and Willie Nettle became a lifeline for me during those first years away from home. James has been preaching at the Canton, MS church of Christ for about 25 years now. Stanley is, I think, working at Parchman State Penitentiary in the chaplains program. Willie earned his doctorate and is preaching for the Bypass Church of Christ in Vicksburg and is on adjunct faculty at MBC. There were other black students, but these were the ones that influenced me greatly. When Willie was preaching at Cedar Grove church, out in the country from Kosciusko, I went with him often and taught classes. James taught me a lot about soul winning. Stanley loved to sing praises to the Lord and was a joy to hear. They remain a vital part of my black history.
While preaching in the Mississippi Delta I met many African Americans. One in particular was gospel preacher Loyd Harris, who was preaching in Greenville, MS. He also established the School of Religious Studies. When he moved to the Coast (Moss Point) I had no idea that some years later I would follow. We enjoyed a good friendship as ministers in neighboring cities and I taught for many years in his school. His work has taken him to preach at the McAlmont Church of Christ in North Little Rock. He invited me to preach a meeting there and I was never treated better. The minister who took Loyd's place, Cornell Johnson, has also been a good friend to me. I am joyful at the memories they bring to my black history.
During my time working at Magnolia Bible College my immediate supervisor was Samuel Jones. Sammy and Rhonda were so much fun to know. Sam now teaches at Freed-Hardeman University and does family seminars in various places. He is brilliant, energetic, and has a magnetic personality. I am glad he is a part of my black history.
There are many others, of course. Many of those brothers and sisters at Cedar Grove remained friends … people who never failed to brighten my day as I bumped into them from time to time. At Central we were blessed with many people that blessed my heart in so many ways. Brother Irrie Wordlaw was a character – he and his family were/are precious to me. Mattie Bridges shared a lot of homespun wisdom learned through a difficult life but forged with faith in God. I saw Mr. Free on my last trip home, he grinned and told me he missed me. He is a man of few words, and those words were sweet.
As I consider my black history, I recognize that many of the blessings I have enjoyed in this life have been through African American associations. Most were through the church, the one place in the world where distinctions and divisions are to be laid aside. Unfortunately, the history of the Church of Christ in America in regard to race relations has not been stellar. I pray that these attitudes have diminshed and will continue to do so. It is up to us to share with new generations coming along the pervasive love of Christ available to all cultures and peoples. In Him we become One. I'm thankful that this does not mean that we cannot practice the traditions of our heritage. It does mean, though, that acceptance is to be expected.
 I will come and proclaim your mighty acts, O Sovereign LORD; I will proclaim your righteousness, yours alone. Since my youth, O God, you have taught me, and to this day I declare your marvelous deeds. Even when I am old and gray, do not forsake me, O God, till I declare your power to the next generation, your might to all who are to come.  Psalm 71:16-18
I thank God for my black history.
JD
*Picture of Marshall Keeble above from THIS SITE.