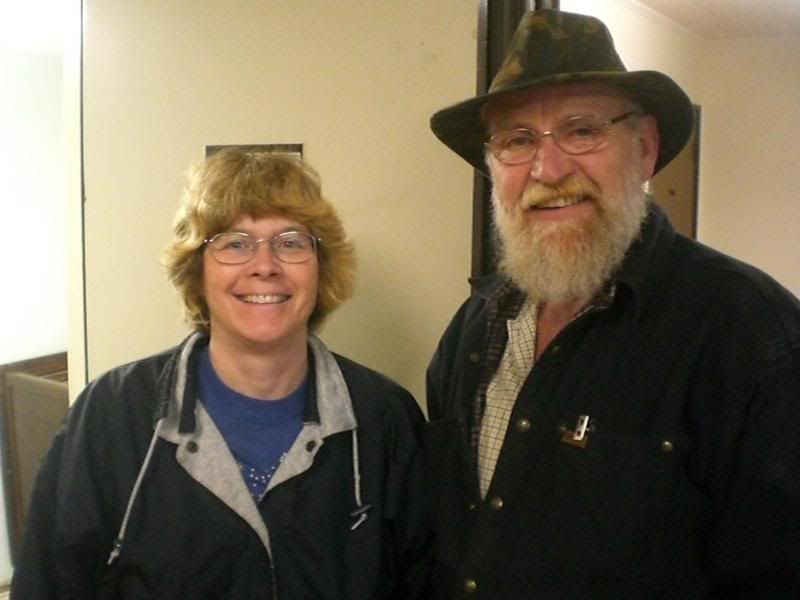 Rex & Sharon Caseman – Volunteers From Pennsylvania in '06
Today started off with a trip to Singing River Hospital. I transported Johnny Ford, as he had some tests to undergo. (He may possibly have a kidney stone). While there I went to check on Ruth and found her sleeping in the surgery waiting room. I just sat down next to her and let her sleep. She finally woke up and we talked a while. She had brought her husband in for surgery the night before about midnight. Her blood pressure was out of control and she spent from midnight to 6:00 a.m. in the ER. So, she was not feeling very well. On the way out the door I ran into John T. John is someone we met after the storm. He lives in the FEMA park just down the street from the church. He has attended several times, but I had not seen him in a long time. He was checking  on a friend who had been placed in ICU. One memory I have of John was one Sunday morning when we were singing How Great Thou Art. We had a lot of volunteers in on that Sunday. The singing was especially good, and that old hymn was reaching a lot of our hearts. When it was over there was a moment of silence because we were just feeling so in touch with God. Suddenly John and a friend stood up and applauded, and it just seemed the most natural thing in the world for us to all join with them in expressing our praise and devotion to God in that way. John obviously has a lot of struggles with life, but I always thought he had a good heart. It was good to re-establish contact with him and I hope that he will worship with us again soon.
This afternoon Rex and Saron Caseman paid a surprise visit. They are from Cogan Station, Pennsylvania and had worked here in February and March of 2006. Things have changed dramatically here during the past year, and they could tell a huge difference. Rex remembered working on the dining hall we now use so frequently.  They visited with some of the people that they helped a year ago. It's great to meet these 'old friends' yet again, and know that our hearts will be forever linked by service in the Kingdom.
All of this winter weather in the nation has left behind an incredible amount of damage. Here's one account of the recent winter storm. This is from my friends Tom & Leanna in Missouri. 
It has been one miserable week, but we survived. It was so very cold. You could see your breath in the house. But we pulled mattresses into the livingroom, shut the double doors, and built a fire in the fireplace and had to keep watch day and night, so it did not go out. Trees and limbs and phone and power lines down everywhere , all over southwest Missouri. Have never seen anything like it. So much damage to trees. Looks like tornado came through. Our back yard will take forever to get cleaned up. Have to buy a chain saw. Bad at the rental houses also. We had a little camp stove, but it was so cold in the house you could not get a big enough flame to cook, so just had to wait about an hour for hot water to have hot tea or coffee to keep warm. Cooked hot dogs and marshmellowes in the fireplace, ate peanut butter, and sunfl;ower seeds and almonds. Walmart was closed, and was sold out of everything anyway. Shelves were bare. What was not sold they had to throw out. Could not buy gasoline anywhere. Most out of gas, and what were not out, could not pump because of no power. Many did not even have a small fireplace for heat. It was scary. Finally after 4 days walmart opened, and one of the local convenience stores had generators going and we got gasoline. And a few items we needed. Like long johns. We got power after 6 days. But many crews of tree trimmers, electric company men, phone and cable men, and national guard to check in on folks still around every corner, trying to get things back to normal. It will take into summer if not longer to get everything cleaned up. Trees will be devastated. Many cars under trees and power lines, as well as some roof damage to several places. We are just thankful to finally have heat! I had to work several days at the hospital since many could not make it to town. They had so many people there also….two community rooms opened to public since they were on generator power. But patient rooms were dark as well as other areas. Took until 11 am to get breakfast up for patients. Many who did come into work had to shower there and get ready to work. It was a rough week all around for so many. Hope your doing ok. We got snow yesterday and some sleet…but so far no more power outages. Everyone is just exhausted. Our shower is busted from getting frozen, so Tom will have to repair it. Our sink had ice in it….and we had to keep water running so pipes would not burst. Shampoo and dish soap frozen.  
 Many people in our nation died during this ice storm. I know what it's like to need others to come to your rescue.
This is not going to become a politics blog but I did ask a staunch Republican friend if he would vote for Hillary or Obama. He said, 'I'd sooner vote for the devil if he'll run." It's just humor people. At least on my end. He wasn't laughing.
 ***LINKS***
Jim Burns lists What Men Would Like Women To Know About Men.
Banners From Everywhere To Fly in Pascagoula!
Broken Dream: The New Orleans Saints.
FEMA: Hurricane Katrina Mississippi Recovery Update
Pascagoula School Locked Down.
Trey Morgan: The Church is Not A Fad!
Robbie Woods updates his blog.
Thanks for reading! Have a great Tuesday!