Installation of the new electric screen and projector.
We had a bright and mildly cool day here on the Coast. Not exactly January weather, but who can complain? With a group from Kentucky and two people from Wisconsin here, we were able to get some work done. Several in previous groups have done work in Miss Jerri's house, and they will be glad to read that today several were serving this sweet elderly lady by working in her home. While some were working there, some were working at Central. We now have a 10 by 10 electric screen installed at the front of the auditorium. Our projector is also now mounted from the ceiling. It took all day, but the results are great!
I mentioned a young widow with two children back just before Christmas. They were all set to come to the assembly with us Sunday morning, however Saturday night her father had a heart attack and was in ICU. It is hard for many people to take even one positive step. Our enemy continues to discourage any spiritual notion that they have. We will continue to pray for Judith and pray that she can get her spiritual life in order so that her heart can be settled, even if life is very unpredictable.
Today a man came by my office to tell me that his FEMA camper had burned to the ground. It took about 15 minutes. He escaped with only a pair of sweat pants. He told me that the clothes he was wearing were borrowed. FEMA has moved him into another camper. That's good, except that these campers are completely empty when you move in. No sheets, blankets, utinsels, pots, pans, etc. So we will be trying to help him with this. But there are two injuries here that really hurt. One, the man had just cashed his grant check and the cash (over $6,000) burned up in the camper. The second injury is the painful experience of losing everything … again … and having to ask strangers for help. I have his information and hope to call him soon with some encouraging words. He seemed a very humble and gentle man.
This afternoon I enjoyed a game of Sequence with my granddaughter. It has been quite an adjustment not having her in the house all the time. Now that her mother has married and they live a few miles away, there are sometimes a couple of days in a row that we do not see her. I feel more like a grandparent now. I miss her often.  And Sequence… that is a game I learned in Fulton, Kentucky. Friends Eddie and Kathy Cassity gave me a home-made Sequence board. The one that comes with the game is rather small. The one they gave us was very nice. Unfortunately, it was ruined in the floodwaters of Katrina. So I was thankful at Christmas time to have that game replaced by a gift from my mother.
In the next couple of weeks I will be starting a Monday night Bible class for people who are struggling in life. We just want to provide some encouragement, prayer time, and simple Bible teaching to give them hope. I'm not sure what to call it. I've been thinking about Stumblers, Strugglers, and Other Grace-Dependent People. But I also think that describes all of us.
Thirsty For God is the name of a project that initially begins January 28  and ends February 4 (Super Sunday). Gary Kirkendall and Danny Dodd will be in Pascagoula to help us contact as many people as possible, teach some community Bible classes, and focus on outreach. If anyone would like to come to town the week before or the week of and do some of this kind of work (phone calls, visits, Bible studies), let me know. Would those of you who cannot come please pray that God will provide a harvest. I will be starting my Strugglers class a week following that … and will hopefully involve some of our new contacts.
I am reading No Perfect People Allowed . Have any other blog readers spent time with it? What do you think?
On a sad note, a college student named Ty Keith came with the group from University Church of Christ in Conway, AR last year to do mission work. I am sorry to report that this Coast Volunteer from Arkansas lost his life in an unexplained manner. His campus minister, Seth Simmons, wrote about him on his blog. In an e-mail to me, Seth wrote, "…he was an amazing guy.  He tried to get left behind when we were loading up, because he said that was where he belonged.  …. that is the heart of Ty.  … Willing to give everything up to help someone else.  … The funeral was packed and they had to bring in chairs to the fellowship wing to hold everyone that was there for the funeral.  It was as beautiful a funeral as possible, if there is such a thing as a beautiful funeral.  He loved you guys and would have given anything to have lived down there to help you guys."
Below is the group that came for the work trip with Seth … not all of them were from Conway. Ty is on the back row with a white hat on. I know he will be missed.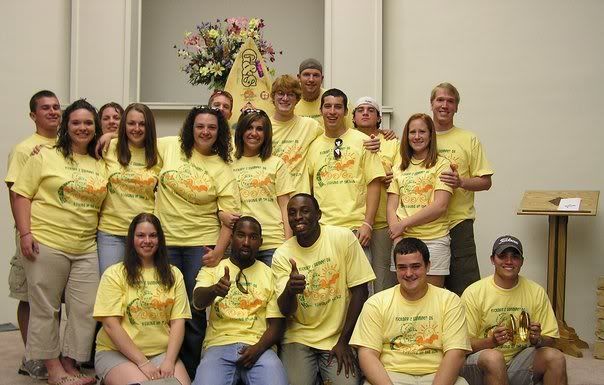 And now for some linkage. 
***Links***
Tim Rush Asks, "What Is Your Favorite Name for God?"
Hilarious church stories from Terry Rush and commenters.
Terri asks an intriguing question.
Steve Puckett Shares His Favorite Resources.
Must the preacher wear the coat and tie?
Shane Seeks Workshop Memories.
 
Buddy doesn't read the blog, but we both thank you anyway!