[youtube=http://www.youtube.com/watch?v=IVWMf6Hx-kU]
Relient K and Sleigh Ride
It's pretty chilly tonight, getting down to about 30 degrees before it's over. It has been getting colder and colder all day.
Last night's candle lighting ceremony was both beautiful and brutal. It was so hard on the heart, yet it felt so important. I appreciate so much French and Marilyn Smith in their work with the local chapter of The Compassionate Friends. If you have lost a child, grandchild, or sibling, you should check out a local chapter for support. As I understand it, this is the largest mass candle-lighting in the world. More importantly, as we lit our candle, John Robert's picture was on a table along with the images of others who have died too soon. It was a sober moment. Thanks to those of you who offered prayers and/or lit candles in John's honor in other places around the country. That meant a lot to us.
I'm not sure why it is that good news seems so good at this time of year … and bad news seems so bad. I have some hurting friends this evening … a friend who's son lost a long battle with a horrible disease. Another friend mourns the loss of his sister a few nights ago, after losing his brother to cancer earlier this year. So many that I know are facing Christmas with an empty chair at the table. And my elderly friend who mourns her daughter, 43 years later … she died on Christmas day.
That kind of hurt doesn't go away. Since that is true, one must decide what to do with it. You could ignore it. You could crumble under it. You could take the love for the one you've lost and give to others in their honor. That is what we choose to do. Not that this is easy, nor does it relieve us of our burden, but it does truly honor John Robert. And it is always a blessing to give to others.
Perhaps the reason good news seems so good, and bad news seems so bad at this time of year is that our hearts are a little more tender, a bit more open, and the light of Christ's love shines a little brighter through our weakness.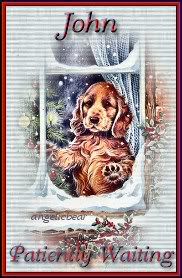 Thanks for reading.