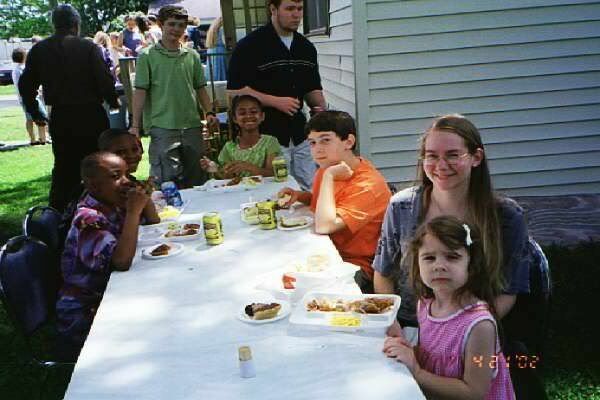 April of 2002 at Central Church of Christ in days before Katrina … Kyle Ferguson in green shirt, Will Collins in black shirt, John Robert in orange, Nicole and Claire … names of the other children escape me.
I hear DISCOVER was a great event. I am sorry I missed it, but I do not regret being present to help my parents in their health struggles. Jason did a great job with the entire event as far as I have heard. We are blessed to have him and Christina as they work with our young people and their families.
Maggy and I arrived back in Monroe Saturday night about 10:30. My dad is out of the hospital, and has felt some better. Thank you for your prayers. Today I worked in the yard while Maggy worked in the house. This afternoon we purchased a refrigerator … which will be delivered Sunday (supposedly). Tonight Mike Riley and I visited my friend Davin, who is in severe pain in the hospital. Please say a prayer for him. It could be appendicitis.
Tomorrow will begin with a prayer meeting with the elders and Jason at the church building.  I still have several things that have to be done at the house, so I'll be working some there … checking on Davin … catching up with Linda the church secretary … and deciding what to do Wednesday night at Forsythe.
However busy I try to stay, the significance of the date will not be far from my mind. Tomorrow marks five months without John Robert.  And not only that, Thursday is his 19th birthday.In so many difficult situations in life you can get by if you'll just act natural…but this isn't natural … and I don't know how to act.  It sure seems like a hundred years since I saw him. Neither Maggy nor I fear for his eternal security in Christ … we just can't always get our bearings on what we're to do now.
I asked my Twitter friends for ideas about how to recognize his birthday and I got several ideas. Maggy and I are still talking about what we might do. Feel free to leave your thoughts about that in the comments.
Thursday and Friday night I will be preaching at the church of Christ in Delhi, Louisiana. I hope if you're in the area you'll come help fill their building up. Come to bless them … I'm sure they get discourged at times. I'll write more about that later.
Last night about midnight we had two gigantic raccoons amble through our yard … stop and eat a few pecans … dig around a bit…then move on. They are beautiful. They're gettin' fat somewhere, though … big. I don't know if I can stay up late enough for them to make their rounds tonight.
I have the notes to nine sermons up on the new SERMON FILE google group. You're inivited to join if you're interested in them! Thanks to those who have! http://groups.google.com/group/sermonfile is the url.
Well, thanks for reading!
John