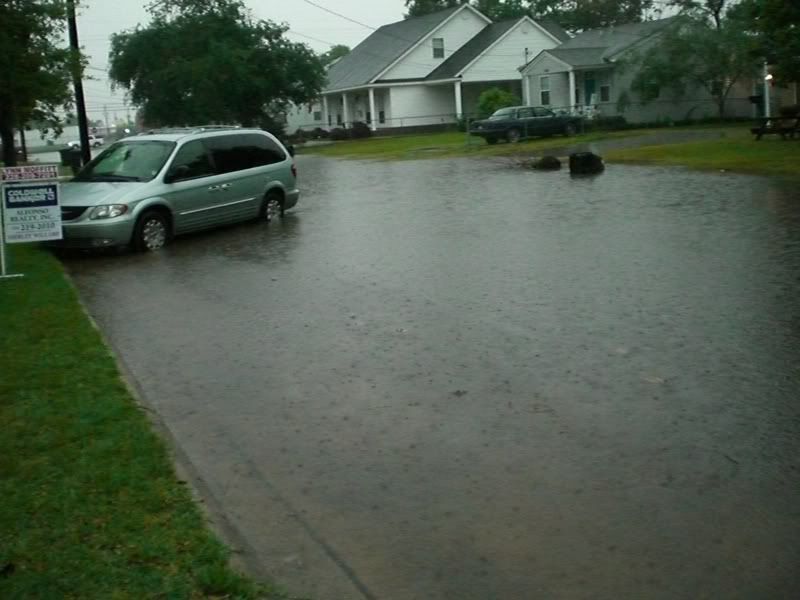 It's a rainy morning across most of the Gulf Coast from Texas to Florida. The picture above was taken of my street … about the time I remembered it was the day to take out the garbage. I hope the garbage truck has a rudder!
Maggy's parents and one of her sisters are on their way to the Coast this morning. They are coming to be a part of the graduation celebration at Central Church of Christ. This will be much easier on them than next weekend … when they would have had to climb the bleachers, sit on hard seats, and be in a huge crowd. This Sunday I'll be preaching at Central (my Proverbs for Graduates sermon), after which they will have a meal / reception for the graduates. I'll be here on the Coast until Saturday, as John graduates Friday night. Then, it's a trip back to Monroe to be in place at Forsythe that Sunday.
Jimmy and Rosalyn Carter, Garth Brooks, Tricia Yearwood and perhaps other celebrities have been on the Mississippi Coast this week. They are working with Habitat for humanity addressing the ongoing housing needs on the Coast following Katrina. I believe I read that they have 2,000 volunteers in this week to raise several houses. My friend Al Sturgeon has formed two different Habitat chapters, including one on the Mississippi Coast. You can read his observations and see his pictures at his blog HERE.
I've added a new page to my blog called TUBES. I'll put various YouTube videos that are circulating on the blogs there. Check it out every few days to see what's new!
Just to update you on my mom and dad… my mother is now half way through her chemo treatments. She had that terrible shot yesterday that just wipes her out. They had to get out in the thunderstorms today to go to doctors appointments for both of them. Like all cancer patients they have good days and bad days. I think we are going back Thursday of next week to see them.
Darin Hamm, as I have stated before, is one of the most creative people I know. He has created the Hands+Feet social network wherein people can share ideas for being involved in their community. From the website: A social network dedicated to encouraging, motivating and inspiring everyday people to extraordinary service. Stop waiting for someone else to get it going. Start today and find a way to impact your world, to be the hands and feet of Jesus Christ. Click HERE to join and find out more. Thanks Darin!
Have you seen Tucker's idea for a missionary road trip? Awesome!
Linda's reporting on a 11,000 mile motorcycle mission!
Can I just say how much I LOATHE the word verification thing on BLOGGER when you want to leave a comment? I mostly just say 'nevermind' rather than do the comment, fill out the word verification three times because I cannot read it, and I could have read two more blog posts by then. So, if you don't hear from me … that could be a major reason why. Why would anyone use blogger any more anyway? WordPress set a new standard.
Well, I guess this is just a newsy breezy post … thanks for stopping by! What's going on in your world?
John