Every morning I walk around a 1/2 mile track for three miles. It's a pretty good track and I enjoy the curvy outlay of it. The sign on the track indicates that every other day you are supposed to walk in the opposite direction, so that varies it up as well. One of my problems is that I sometimes forget which lap I'm on. That's frustrating … but my mind wanders so that I really can't even recall how many laps I've taken. I am likely to overshoot the number, too! So I've developed some things I say to myself at the end of each lap … they're silly … which makes it easy to recall.
At the first lap I say to myself, "One is the loneliest number, so add some more!" (I told you it was silly!)
At the second lap I say, "Dos Amigos". For both of these I also do a visual on a sign that says 1 / 2 mile per lap. At the first lap I focus on the 1, on the second lap I focus on the 2. It takes a lot to get through to my brain.
On the third lap I say, "Three is the number, and the number is three" and "Halfway there"!
On the fourth lap I say, "I hear the four horsemen of the apocalypse!" I usually feel as if my body is about to go apocalyptic on me!
On the fifth lap I say, "Cinco … cinch it up with one more lap John."
On the sixth lap I have no saying. I'm finished … so I collapse!
Ever since I developed those simple silly little markers, I no longer forget the laps … I'm sure I will sometime or another … but they help keep me focused on a number. Nowadays one of our elders, Jim Ingram, walks with me and he is an engineer. As such, he has no trouble keeping up with the laps. He also clocks our walk and warns me when we're falling behind yesterday's pace. I didn't know I signed up for a coach! Anyhow…
I wanted to relate this to something about prayer (yes, there was a point to all of this!). Donald Whitney talks about Prayer Prompts in his excellent little book, Simplify Your Spiritual Life. 
Beside a highway that I travel several times each week sits a big sign that's hard to ignore. Whenever I notice it, I use it as a reminder to pray for a particular person. At another point along that road is a panoramic view of my city. I use the sight to remind me to ask the Lord for reformation and revival upon his work in our area. Whenever I see a certain time on a digital clock, it's a memory-jogger to pray for my wife and daughter.  These are things use to remind one to pray.
We need to set up some prayer prompts … some markers … in our lives so that we are urged to pray even when we are not considering prayer at the moment. They can be a sigh, smell, sound, thought, event or experience. I think a lot of Christians pray for rescue workers and those they are going to help when they hear a siren passing down the highway. Prayer Prompts might be common objects – even religious objects –  crosses, prayer beads, etc. as aids … but they should never be considered as having power other than as a reminder.
Recently a friend showed me his prayer beads. I do not think I've ever seen a non-Catholic praying with beads. Praying with beads is an ancient practice that can be individualized – with no set pattern except one that you are comfortable with. I recently made my own prayer beads after the pattern my friend uses. In the set described there is a metal cross, a large bead, 4 medium beads with seven small beads between each. Here is the suggested rhythm of prayer using this particular set:
Cross: Lord's Prayer
Large Bead: May the words of my mouth and the meditation of my heart be pleasing in your sight, O LORD, my Rock and my Redeemer.
Medium bead – The Jesus Prayer – Lord Jesus Christ Son of God Have Mercy on Me
7 Small beads – Prayers of Praise
Medium bead – The Jesus Prayer – Lord Jesus Christ Son of God Have Mercy on Me
7 Small beads – Intercessory prayers
Medium bead – The Jesus Prayer – Lord Jesus Christ Son of God Have Mercy on Me
7 Small Beads – Confessions and Requests
Medium bead – The Jesus Prayer – Lord Jesus Christ Son of God Have Mercy on Me
7 Small Beads – Prayers of Thanksgiving
Here's the two sets I made: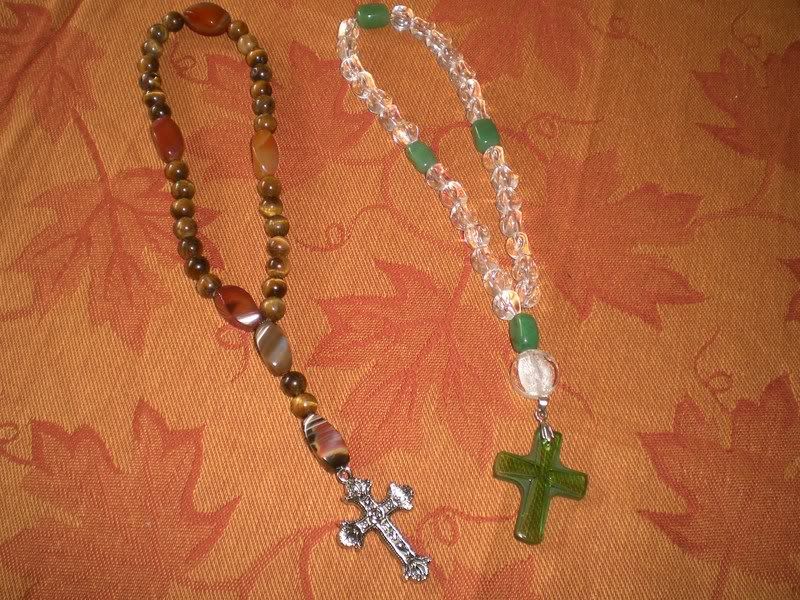 I also read of a bead set that had twelve larger beads and the others were smaller. For each of the twelve beads one could pray through the Twelve Steps of Alcoholics Anonymous.
One could just as easily use a checklist … or whatever kind of reminder … just as long as care is given that the beads, checklists, markers, prayer prompts themselves are not thought of as having any power … they just prompt us to pray.
Do you have any markers in your life that prompt you to pray?
Thanks for reading.
Notes for my class on fasting are located HERE.
HERE is something I got in the mail today. I love cars. Replicas are much cheaper than the real thing!