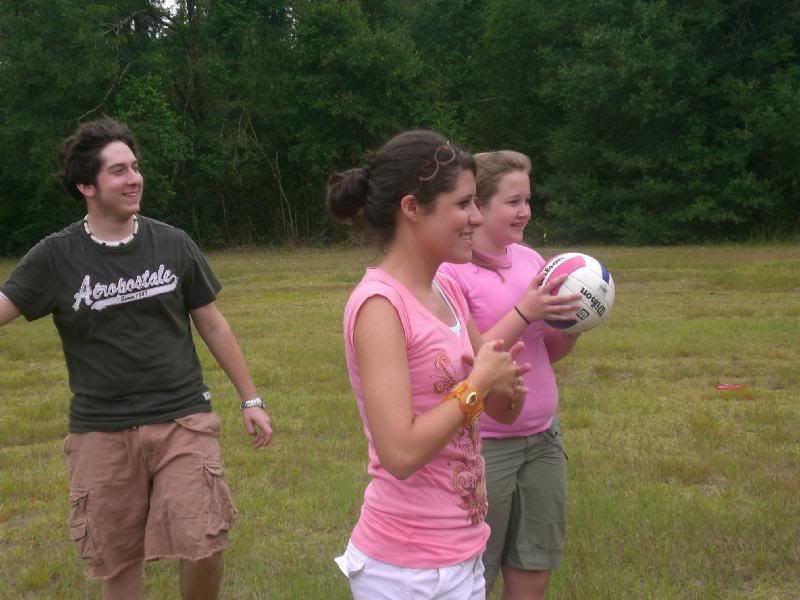 John Robert, Lanni, Haley Enjoy A Game at Gulf Coast Bible Camp
Each new day brings a new marker. Today marks two weeks since I last saw John Robert alive. Yesterday marked the first time for us to worship in the assembly since John's death. It was also two weeks since we honored John and two others for their impending graduation from high school. And it is these markers … these "firsts" that tend to open the wound once again. Yesterday while talking to Terry Rush, he said "you're in for a whole year of firsts." How true.
I spent a good bit of time Saturday working on my picture albums HERE. I have more pictures on disk in my office in Monroe that I'll add later. As many pictures as I have, I wish I had taken more.
Being at Central yesterday wasn't easy. I really didn't want to go … to face the pain … to receive the sympathy … but it was good. The service seemed about 7 hours long. Every song was one that John Robert would have willingly led – except one. "Count Your Blessings" he would have passed on to me. I do think there is value in counting your blessings, but the triteness of that song really kind of made me angry. Anyway, I didn't sing much. During the communion time I remembered that the only hope I have of seeing John Robert again is through the power of the blood of Jesus and His sacrifice for us. The sermon was presented by friend Byron Smith on having faith the size of a mustard seed. It was a good sermon but hard to hear. The traditional invitation song, Just As I Am, also reminded me that I must hang on to Jesus.
After worship we had lunch at the Heritage House with friends. I invited some of John's friends and they came, but we were unable to eat together in the crowded restaurant. I spent a few hours with one of John's friends in the afternoon. I took a drive down the beach in John's truck, which I guess is mine now. Later in the evening I talked with several friends in Big Poppa's Coffeehouse. That was really delightful and it made the late night hours go by quickly.
Morning and Evening. Those are two markers each day. It was not uncommon to have a few words with John as he ran out the door for school… or when he came in after a day of school, work, and visiting with friends. Morning and evening are usually marked by tears. Last night Les Ferguson, Jr. called from camp. The same camp session that John was planning to attend. Granddaughter Claire is there. Les told me that they were going to give a $500 college scholarship to a deserving camper at the end of the week in honor of John Robert, and that they hope to do this each year from now on. Les and I cried together on the phone. Another marker.
Thank you once again for the beautiful comments and prayers. They have truly been a lifeline to me. I wish I could reply to each one, but I just can't do that. I know you understand. We know we are covered in prayer … people around the world are offering their pleas to God in our behalf. If only every desire to relieve us of our pain were able to do so … but this is an ache, an emptiness, with which we must learn to live. That is, until we become fully alive in His eternal kingdom. Maranatha.
A couple of things that blessed me:
The Prayer Garden. View when you have a little time to spare so you can really enjoy it.
And also this video: Hillsong Worship – Oceans Will Part. Thanks, Wendy, for showing me this song.
[youtube=http://www.youtube.com/watch?v=VL18YpuFpHM]