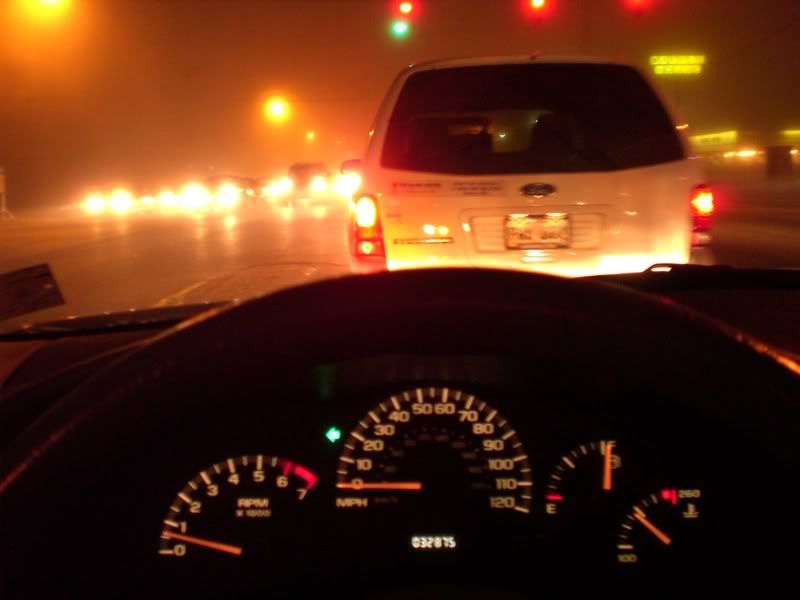 Tonight in Pascagoula … It's a Dangerously Foggy Night.
 Since I will not be at Central this Sunday, I spent this morning taking care of some things that need to be in place. Sam Long, of Faulkner University, will be speaking in my place. I hope if you're local you will come out and hear his message and class. This afternoon Jim Ingram and myself made a few visits. Maggy and I attended granddaughter Claire's school Christmas presentation. It was cute.
I did have a great interruption today when Ed McGaughy knocked on my door. Ed and I are old camp friends, having directed many sessions together over the years at Gulf Coast Bible Camp. He was the youth minister at the Spanish Fort, Alabama Church of Christ at that time. They had a fantastic youth group that was so energetic for God. I attribute this to God's work in their hearts, and in his servant Ed … who has a contagious enthusiasm and love for God. He has so many qualities that I wish I had. These days Ed works as a computer repair / technician, so if you're on the Gulf Coast and need some computer / network work done, give him a call. I hope he stops by again sometime soon.
We are getting some calls from people who saw on the blog that we needed help getting ceramic tile put down at the church. Thank you so much. It looks like we will have some folks come in about mid-January to get that done. If you want to assist them, I'm sure they will not turn down any help! Speaking of volunteers, we have already closed some weeks in March due to the number of people coming to help. I'm so excited to see what God has in store for Central in the coming months!
For months now I have looked out of my dining room window across the street to my neighbor's house. At this place a mother lives in a camper in the back yard, grown daughter and two children live in camper in the driveway. For sixteen months no one has been able to live in this house. Tonight I am so happy to see lights on inside the house. I'm not sure if they have totally moved in yet … but those lights across the street are certainly a beautiful sight to me.
And a light of a different nature … Adam Wilson. Adam was stationed here a few years ago. He was a young single man in the military who was very devoted to Jesus Christ. We fell in love with him instantly, including the teenagers that he spent much time with. Like all military folks who have been here at various times, he came and went on the orders of someone else. We were sad to see him leave. I even felt moved to write a letter to his parents back home (in Virginia?) to tell them what an inspirational young man he had been in our midst. Hurricane Katrina came in August of 2005. By then Adam had been long gone. I had no reason to believe that he would be watching what was happening here. Until the checks started to arrive. Most months since Katrina we have received a check from Adam Wilson. I know he can't be making a fortune, so his generous gift means so much. As one arrived just the other day I wondered where Adam is stationed now. I have lost touch with him, but he has not lost touch with us. Yet another evidence of God's grace finding its way to the surface after the storm.
Below are some links relating to Jay Bakker. Like him or not, he says some startling things in sometimes crude ways. But his emphasis on the poor, judged, and discarded (by Christians) is both an indictment and an offense … and catches my attention. In a recent newsletter Jay reports that his mother's colon cancer has worsened and she is in significantly poor health. I know a lot of people think the Bakker's are just kooks, but somehow all that television exposure made many Americans feel as if they knew the Bakkers. I'd recommend reading Jay's book, Son of A Preacher Man: My Search for Grace in the Shadows … I couldn't put it down once I started it. Also if you can rent The Eyes of Tammy Faye at a video outlet near you, I found it to be fascinating.
***Links***
Vista Print is a great source of good-looking business cards, post cards, note pads … personalized … and at a great price. If you use THIS LINK to get there as a first time customer, I can get some free cards or whatever. I've been using them for years, and they are awesome.
Are the Saints Superbowl Bound? I remember the paper sacks on the heads of Saint's fans. None of those now.
Road Rage Leads Man to Attack Another With … Deer Antlers!?!
34 Minute Execution in Florida Raises Death Penalty Debate.
Christian Chronicle's Coverage of Richland Hills Church of Christ Adding an Instrumental Service.
Ken Harris has an all-star visitor at church.
Jay Bakker's Move From Atlanta to New York Sparks CNN Article: What The Hell Happened to Christianity? I would love to hear your comments on the story. And if you want more info…
[youtube=http://www.youtube.com/watch?v=-HN5R-T9Fbo]
Looking Back: Ok, I went a bit overboard on the Bakker links in this post. I do think there is much more to the Gospel than they tell. But they are American Icons of the 80s and people of interest. To me. And I know to at least one other Blogger who might identify himself.  Thanks for reading… the next post will likely be late Sunday night or Monday.