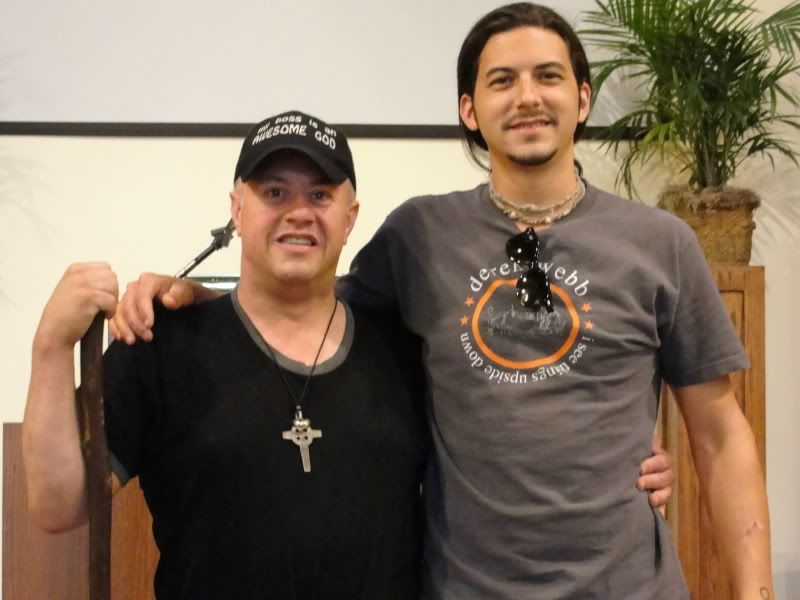 Sean Rogers and Joel Jordan
You know how you sometimes have people in your life that are connected in several different ways…but you've never actually met them? In today's social networking world that happens a lot. Today I was privileged to meet Sean Rogers, affectionately known by many as "brother Sean".
Sean is one of those guys that is hard to describe… he is part monk … part cheerleader for the downtrodden … part lifeline for the desperate. He is a bigtime dreamer who puts hands and feet to his desire to lift up the fallen.
I guess my first connection with Sean was through Joel. Now I've known Joel since he was a teen at Gulf Coast Bible Camp way back when. In May of 2008 Joel had organized some of the teens and college students at Central Church of Christ in Pascagoula to make peanut butter and jelly sammiches (my favorite spelling, please forgive). They were going to Mobile to meet up with Sean and pass these lunches out to the homeless. On the Wednesday morning before they were to go, John Robert died. That weekend the teens still went because they knew that John would have wanted them to go. And he would have really been excited about going himself.
Over the past few years I've had phone calls, emails, Facebook chats and other contacts with Sean. Sean's story? I am sure I barely know the half of it. A year and a half ago he moved into an extended stay motel in downtown Atlanta that was populated by druggies and prostitutes. He felt called by God to move there, he wasn't exactly excited about it though. His first inkling of what a difference he could make was when he helped a young prostitute make her way home to Nebraska. Sean was shining the light of Christ in that dark place, and Christ made the difference. Nowadays it is a clean and decent place to live.
But across the street the darkness still reigns: massage parlors, head shops, strip joints, and whatever else you can imagine.  So Sean is moving ahead with his light, having an outdoor worship on Sunday afternoons right in the middle of it all. His first Sunday was last week. 25 gathered there.
Sean does a lot of other things. He has an ongoing interest in Skid Row in California. Like I said, I doubt I know the half of it. Sean's passion is the value of life. He doesn't talk long before he begins talking about abortion and the death penalty – two issues he feels strongly about. His hero is Sister Helen Prejean. Her ministry is known popularly for it's portrayal in the movie DEAD MAN WALKING. Sean has an appointment to meet and talk to her tomorrow in New Orleans. He and Joel will go to the 9th ward to show love to the hurting there, and then meet with sister Prejean.
Here is a video of Sean talking about his trip.
[youtube]http://www.youtube.com/watch?v=ApDG_Rd7CAs[/youtube]
It's always a joy to see Joel. He is currently living in the Shreveport area and leading worship for the Airline Drive Church of Christ along with a great team of singers. He is a talented musician and songwriter and performs often at the Naked Bean in Shreveport. It is no surprise to me to see Joel and Sean hanging out and working together. They both have a big heart for those who cannot escape the bondage of poverty and all the issues that go along with that.
Sean and Joel and others like them are lighting the way. Finding ways to join them and reach out to God's broken children is something that belongs in our prayers.
You can befriend Sean on Facebook HERE.
You can follow Sean on Twitter HERE.
Sean's Deep Waters Ministry website.
You can befriend Joel on Facebook HERE.
You can follow Joel on Twitter HERE.
You can hear some of Joel's music on MySpace HERE.
Would you say a prayer for the people that Sean and Joel will talk to this week? I look forward to the developing ministry of light that Sean is shining into dark places.
Thanks for reading,
JD