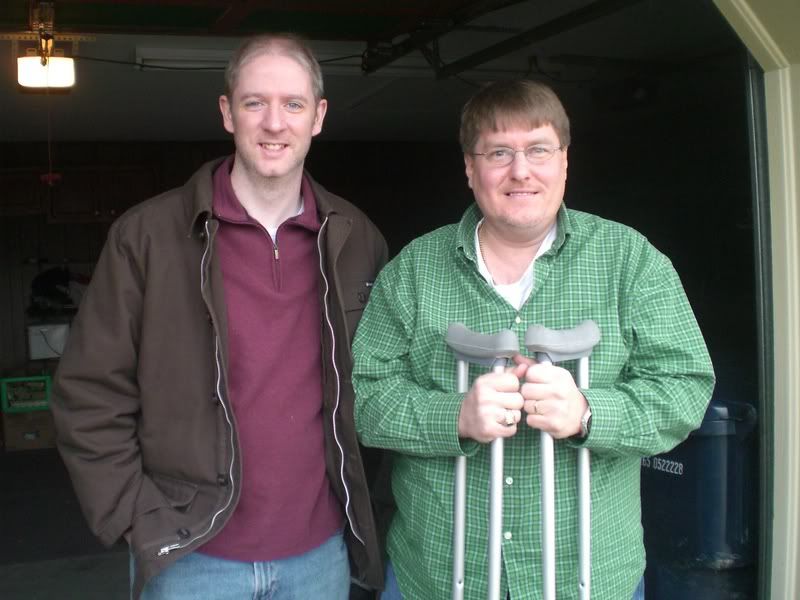 Al Sturgeon and Les Ferguson.
It's very early Saturday morning. In about eight hours we are going to have a work day at Central to spruce things up and get some things back in place after having our new floor placed. It is so beautiful and I can't wait for everyone to see it Sunday.
My Friday was a great one! I picked up my friend Al Sturgeon and we drove over to Les Ferguson Jr.'s house to visit with him. A few weeks ago Les broke his ankle climbing down out of the attic. So we went to terrorize him in his new home … a beautiful new home that is appointed in a lovely way by his sweet wife Karen. I feel the need to tell you that Karen turned 40 years old today. For some reason she did not share that information with us….but Les did. Anyhow, in a surprise move, Al has already beat me to the punch in writing about the visit (with almost the same picture on his blogpost as above). Al admits to being a sort-of 'unpreacher'. I like that about Al. We have a friendship going back many years that I have learned to count on. Les is almost a childhood friend, since I met him when I was 17. As expected we spent time talking about Katrina and the aftermath. Before I dropped Al off in Ocean Springs we drove down to Front Beach Road. The Ocean Springs Church of Christ facility is just beyond a stone's throw from the Biloxi-Ocean Springs bridge that was totally destroyed. Several people weathered the storm in that building … including Al and his wife. Katrina is never far from our minds and always finds a place in our conversations.
I made a few stops on my way back home … Hudsons …Wal-Mart … and cooked supper for Maggy. She had spent all day at the dining hall preparing and serving food for the volunteers before they left for home.
A while back I submitted a post called My Capricious Resolutions. One of them was to get the first and second season of LOST and watch it. Wellll…you never know who's reading. Blogger Angie Burns saw that and sent me season one. So tonight Maggy and I watched the first four episodes. It is so exciting. I don't know how we missed out on the adventure! We look forward to watching more … and for passing that first season along to someone else when we're through. That way Angie's blessing can be spread even further!
I spent some time on the phone recently with my old friend Jon Mark Smith of Southhaven, MS (Goodman Oaks church). Jon and Marie are expecting their third beautiful child before too long. I am happy for them and wanted to do my part in getting the word out! Apparently I'm running way behind!
 Well, I better get a little shuteye before work day … and then Sunday. Sunday is a great day because I will assemble with the Family of God. And it is a good day because the Saints will mark their record breaking entrance into the Super Bowl contest by beating the Chicago Bears. Obama can make all the predictions he wants (I guess he'll lose the Louisiana delegates for his remarks! LOL) … this is the magic carpet ride and we're going all the way! Thanks for reading!