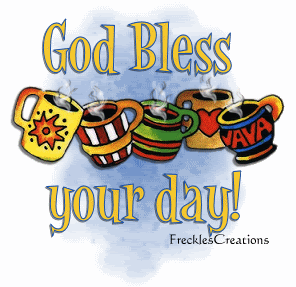 It's a new week and all of us have so many opportunities in front of us. May we all use them to His glory and for His kingdom!
This week we have about ten relief workers in from Denver, Colorado. I haven't met them yet, but we are thankful for their help! In Saturday's The Mississippi Press there were some pictures from some homes being dedicated in the 100 Homes in 100 Days project. I also noticed some empty lots as I drove through that area, which makes me hopeful that some new homes will be going up soon. The affordable housing crisis was averted somewhat when those living in FEMA campers were given an extention this past week. That, at least, gives more time to address the issue and find solutions.
I just finished Donald Whitney's book on spiritual disciplines. I'm still reading Foster's Celebration of Discipline. I hope to finish it this week, as I have Piper's book on fasting on the way as well as a few other selections on the subject of the Disciplines. There is great interest in the Disciplines, and I think a focus on these things will help people to draw nearer to their Abba – which is the great desire of all who follow Jesus.
There were some pretty serious and intense posts last week. Thanks for the hearty comments and dialogue. I cannot apologize for expressing my convictions. I do acknowledge, though, that I may at times express them poorly … or leave wrong impressions in the manner of my words. I am a Bible teacher and I must teach my convictions, and not simply maintain orthodoxy (i.e. parrot what I have always been told without investigating Scripture for myself). In addition, though, I must teach with love and humility if I am going to imitate the Master. In discussing things that are difficult or that depart from traditional Church of Christ theology, I hope to understand with greater clarity what the Bible says. My loyalty is to Christ above any institution – and the same should be true of all disciples. That doesn't mean I always get it right.
I think that's the value of the blog world. Everyone can have a voice, if they choose to. Interaction with other believers is a key funtion of the church, and in such a way the blog world becomes its own church with daily assemblies where people dialogue with one another about spiritual things. These are the conversations we would like to have at the coffee shop when no one is around us who is interested in chatting about them. The blogs are our coffee shop, and friends gather around the table in order to bounce ideas off of each other. Blogs are the new 'front porch' (with a bow to Leonard Sweet) when you can't get to each other in any other format than the internet.
That means that sometimes disagreements erupt. In this forum, that is welcomed if it doesn't break down into name-calling and low-brow debate tactics. If you do not agree with me on some issue or topic, that does not mean that you are wrong. I freely admit to the potential of being wrong on any given matter! In all, though, writing on blogs is about sharing the journey of faith with others. Yes it is public, but it also has an air of intimacy about it. You're here reading because you want to be. Friendship and kinship is developed in the interaction together.
Generally about 200 people a day stop by Out Here Hope Remains. You are all welcomed. Friends. Enemies. Bored people. Interested people. Accidental landings. The day has come when genuine faith has nothing to fear and no reason to hide. When we express ourselves honestly we find that there are others who feel just as we do! We also find that there are others who do not feel as we do. Praise God!  We all have a lot to learn from one another.
Jackson Teen Deaths Prompt Seminar.
St. Louis Cardinals Mourn Tragic Loss of Pitcher.
Matt considers hurdles to New Testament Christianity.
Terry Rush: What Turns A Congregation Around?
IDES never stops working in Slidell!
Search Engine Terms Resulting in a Stop Here
The Bibletones – no doubt a southern gospel quartet
Tulsa + Chinese Food open late – can you order me the sweet and sour pork?
"Jordan Sparks" – it's JorDIN … come on people!
Thanks for reading,
john