[youtube=http://www.youtube.com/watch?v=kCdSWc6BBTQ]
Prayin' For You – Lecrae
Greetings from our beautiful Gulf Coast Saturday. I had plans to be out of town next week on a retreat, but it was cancelled due to drought in North Georgia / Tennessee. Instead I'll spend this week getting ready for the Jackson County Fair. We will have a booth where we will greet the thousands of visitors who mill through the Fair Hall. I'm sure I'll be writing more about that next week, so I won't say any more about it now. I will ask you to pray for us to be able to reach someone who is seeking God's will for their life. God already knows who it is, even if we do not.
I want to mention what a wonderful reception we had at the Athens Church of Christ last Sunday. Even though my friend and their preacher Tim Gunnells was out of town, they made me feel like a special guest! I enjoyed preaching from Hebrews 12 to this active and lively family of believers. Athens is a beautiful little town in Tennessee and they always make Maggy and I feel right at home.
Tomorrow I'll be speaking from Hebrews 13. In my thinking, the chapter circulates around verse 15: Through Jesus, therefore, let us continually offer to God a sacrifice of praise—the fruit of lips that confess his name. What does a life of continual sacrifice of praise look like? That verse reminds me of Romans 12:1-2: Therefore, I urge you, brothers, in view of God's mercy, to offer your bodies as living sacrifices, holy and pleasing to God—this is your spiritual act of worship. Do not conform any longer to the pattern of this world, but be transformed by the renewing of your mind. Then you will be able to test and approve what God's will is—his good, pleasing and perfect will. Our life as an offering to God will be characterized by:
Loving each other as brothers (1)
Loving strangers as angels (2)
Loving prisoners and the mistreated as if we were prisoners and mistreated (3)
Loving our spouses faithfully (4)
Loving God's provision and presence in our life, rather than trusting money (5-6)
Loving those who provide spiritual leadership in our lives (7, 17)
Loving the faithful Jesus (8)
Loving the truth instead of lawkeeping (9-10)
Loving the promise of heaven based on the sacrifice of Jesus (11-14)
Loving the opportunities to do good and share with others (16)
Our 'living sacrifice' is a sacrifice of love for the God who has loved us deeply. And if those areas of love were a part of our daily life, and our corporate life, so many things that divide and conquer us would fall without power to hell from whence they came. Hebrews 12:28, 29 set the stage for these truths in our lives: Therefore, since we are receiving a kingdom that cannot be shaken, let us be thankful, and so worship God acceptably with reverence and awe, for our "God is a consuming fire." Acceptable worship isn't about five items… it's about a living sacrifice … a life consumed with His love … drawn into the flame of His grace. Hebrews 13:25 provides the appropriate ending: Grace be with you all.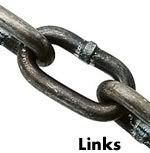 Thanks to the Holy Ridaz for the video above.
Terry Rush shares a new resource with helpful information for the way we approach evangelism.
Clergy can play a key role in addressing addiction.
Should youth ministers be using HALO to draw in young people?
Thanks for reading!