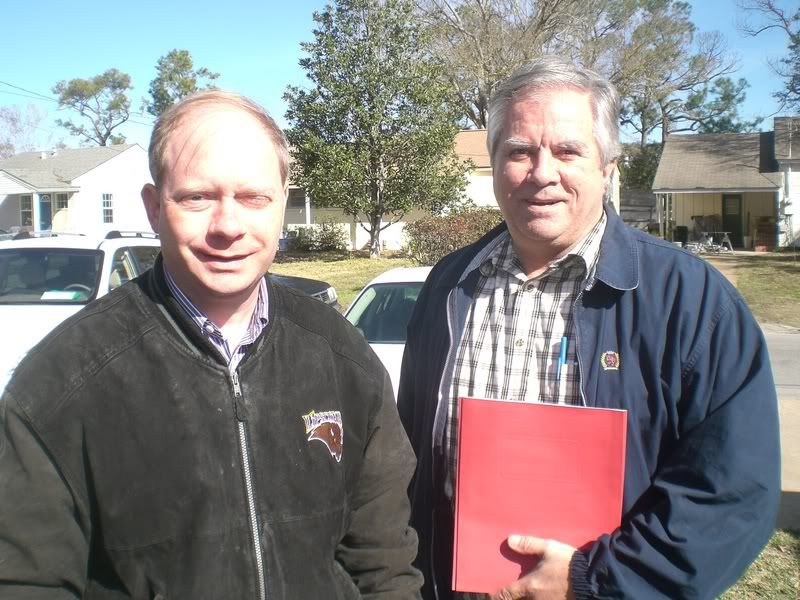 Kevin Farris & Greg Williams: Servants from Hillsboro
After several months of planning, overcoming some setbacks, having to change directions in mid stream, moving the date three times, and lots of prayers, The GodThirst Project is underway. In spite of asking hundreds of people to come and help us this week, only two volunteered to help us reach out to our community. Greg and Kevin are from the Hillsboro Church of Christ in Nashville. Greg grew up in Pensacola. This is his eleventh trip to the Coast since Hurricane Katrina. He has been a constant source of encouragement and blessing to us. This is Kevin's third trip down to the Coast. He has some challening handicaps that he must overcome, but he does so with a smile on his face and with great courage. Another brother was set to come, but fell ill Sunday before the trip and was unable to come. What great examples of servanthood these brothers are to all of us.
Yesterday we met at 8:00 a.m. at the dining hall for breakfast. In addition to Kevin and Greg, Byron Smith spent the morning with us. Byron is the manager of Gulf Coast Bible Camp. He is bright, energetic, and has spent much time doing campaign type work. I appreciated his coming over to help us. Central members Jim Ingram and Harry and Ann Lane arrived to help us knock the doors of people we have helped in the community. Harry and Ann made some special visits to a homebound widow and a lady who has cancer in addition to contacting several down one of our streets. Jim Ingram and I made some visits to some of our members. I also went by the jail and a nursing home for some overdue visits. My wife, Margaret, prepared a delicious lunch for us and will provide lunch during the rest of the week for those who come to help work.
We have some great Bibles that we are giving away as we have opportunity that were provided by I.D.E.S. We have given away our stock of GIANT PRINT NIV BIBLES. I do not remember who provided those Bibles (sorry) some months ago. But with the number of elderly people we serve, these Bibles have been a blessing to many people. If anyone would like to donate some of those, that would be a useful gift.
During the afternoon Danny Dodd arrived. I love and appreciate Danny so much. He was out of the country last week, but still agreed to come and help us for a few days. I also appreciate his wife, who is home taking care of their daughters while Danny serves here … in doing so she is as much a part of this effort as Danny is!
Last night we had about 25 in attendance on a Monday night to hear Danny answer the question, "Can God Really Help Me With My Problems?" It was an excellent presentation in which Danny presented some things he learned by going through the trauma of a divorce. I think all of us were attentive to his every word because he spoke with such candor. We did not have the neighborhood visitors we hoped for, but we did have some members present who really needed to hear what he had to say. Well, we all did in one way or another. I could think of several people I knew that would have benefitted from that message. It was a great presentation with discussion from those present. We also had some great refreshments provided by Mac and Sue McGuire. I look forward to tonight's presentation on "What Does God Expect of Me?" We should have an ad in The Mississippi Press for the next three days.
In all of the doors knocked we have found many people not home – which is to be expected. We have identified some needs, giving us opportunity to serve. We have found people who just needed to talk while someone listened, which we were happy to do. We have experienced the commeraderie of serving together, a wonderful byproduct of this type of work.
Today we will hit the streets again, with fewer workers … but still full of optimism and hope. Additional pictures from last night and yesterday can be found at my picture page located HERE. Keep praying for us! We believe in a mighty God who can do things beyond our imagination! (And I can imagine a lot!)
Thanks for reading!