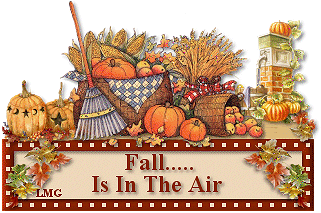 Greetings friends. Like many parts of the country we are experiencing some crisp and cool mornings, and I love it. It's put a little pep in my step on my morning walks! This is the time of year when you have a little heat running in the night and the a/c on during the day. While my heatpump might be confused, I rejoice in this wonderful time of year.
I haven't posted much this week. It's not because of a lack of thoughts … just seems I've been running more than usual. Yesterday was Grandparents Day at Claire's school, so we enjoyed eating lunch with her. I can't believe how fast she's growing. I know everyone says that about their kids and grandkids … if it's so common, why are we surprised? We took Blake with us so we had both grandchildren. Of course we're much too young to be this old! There are only about seven more weeks until 2008. I'm reminded of that old song, 'Swiftly we're turning life's daily pages; Swiftly the hours are changing to years…'
Katrina Relief. This week we have had 30 Mennonite believers from Pennsylvania working in Pascagoula. They stayed at our church building and we enjoyed having them here. There is a lot of work to do in our community, and much of it is awaiting a skilled labor force. They will begin their long journey home today.  This is the first week we have used our new kitchen / dining area to cook for and feed volunteers. It worked out beautifully. In a few weeks Tom Hixson will be back for his third trip. He will bring six skilled workers with him. Ever since his first trip down with Hope Missions Tom has tirelessly recruited workers and sent them down our way. He is a warm and sweet brother who loves Jesus Christ strongly. He usually offers a communion meditation when he comes to visit. David Kilbern has let me know that we have a full load of workers for the month of January.  
Here's a great idea from Patrick Mead:
When you make out your Christmas card list this year, please include one slot for this:
A Recovering American soldier
c/o Walter Reed Army Medical Center
6900 Georgia Avenue,NW
Washington,D.C. 20307-5001
You can do the same for "A Recovering Sailor" or "A Recovering Marine" and send it to:
National Naval Medical Center
8901 Rockville Pike
Bethesda, MD 20889-5600
You might not believe that a card to an unnamed person from an unknown person means that much but you'd be wrong. It is huge.
Submission was the subject of our latest class in the Deeper Walk series.
 Ray Hawk reflects on his journey of grace. Must Read!
I was touched by Noreen's compassion and love for people in this post.
Wondering if you are a Control Freak? Ask yourself these questions.
Getting Savvy About Standby Power. (HT: The Daily Samurai)