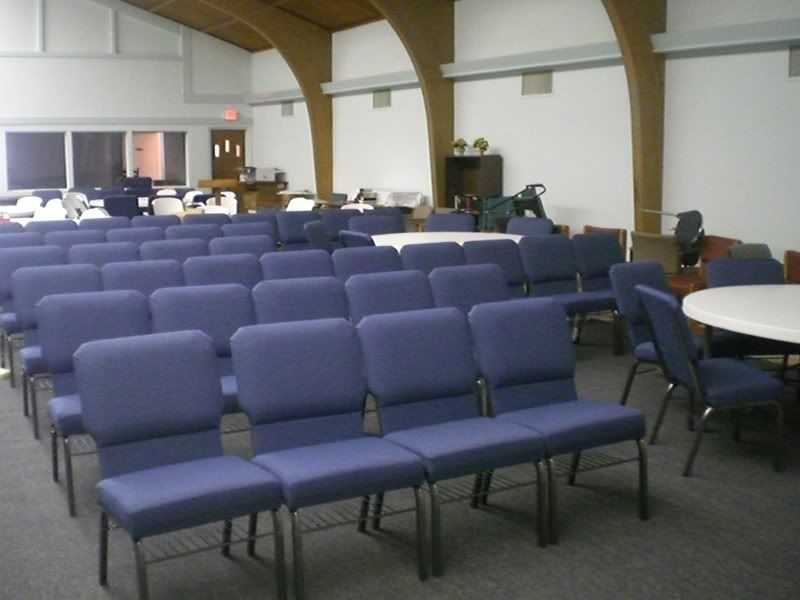 New Seating At Central Today!
Yesterday new chairs arrived for our use in the auditorium. Ricky and Debbie Seab, Jim Ingram, David Kilbern, Keith Attaway and myself unloaded them from the truck and set them up in the auditorium. We kept up several tables because it seems like several people really enjoy having a place to put their Bible and write notes. Others appreciate the other kind of seating.  I'm thankful for this blessing. There are still some things to put away and to tend to, but it looks really great!
I have to admit that I had a moment of sadness as I looked at our pretty meeting place. Don't get me wrong, we have come a long way and I am thankful. But there is an image of our auditorium that I believe will always be present in my heart.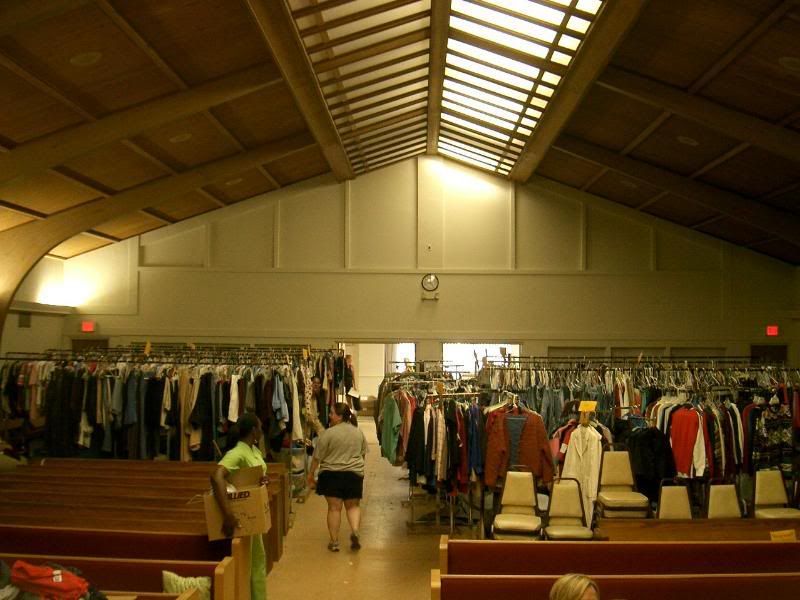 Central Auditorium ca. November 2005
That's the picture. I know I'm not alone in this. So many people came and could not believe the ministry going on in this place. A brother from Prattville, Alabama made the clothing racks. We had tractor-trailer loads of clothes – some of them brand new. And people all around us needed clothing because so much had been destroyed by Katrina. Also because there was no where to wash clothes. Not long ago I complimented someone on their clothes and they told me that they came from the racks inside the church building. It made me feel good to meet such an essential need. One of our members made a good point about how volunteers bragged about our building being used in such a way. They said that it sounds good, but the volunteers go home to a beautiful building. We have to look at it long term. I know that this is true. But still, to me it was a special time. People actually walked into our building looking for help … and found it! Times have changed a bit. Now we have to work harder to reach people. One day all the doors will be closed yet again. It is so important for us to purposefully demonstrate the love of Christ and to share it with others while the opportunities are so abundant.
***LINKS***
I've added lots of new blog links to my blog roll. I also deleted some that haven't updated in several months. If you find any dead links, let me know. If you would like your blog listed, let me know!
Wade Tannehill is asking questions about prayer.
Matt Doesn't Like American Idol Either. I think we forget that these people WANT to be on TV and that this is not a new show … it's all voluntary. Anyhoo… as I have said, my favorite part of the show is yet to come. I like it when they get it down to about 12 singers and it truly becomes a talent competition.
Tony Arnold makes a good point.
Darin Hamm's New Heights Church Video.
Steve Sjogren's Advice: Have Fun.
Rick Reflects on Joel Osteen's Approach.
What Do You Wish Church Leaders Understood About Everyday People?
Thanks for reading! Have a great weekend!