This is the week for the Jackson County Fair, an annual event that draws most everyone from Jackson County. In the Fair Hall we have a booth where we are giving away some materials, coffee mugs, hats and pens and stuff. We are using the theme that Craig Hicks helped me arrive at: Jesus Likes You! We have some t-shirts with this saying on them and we've gotten some interesting comments. Some of our college students wore them to school this morning and got some positive comments. Some who have come by the booth want to know why we didn't use "Jesus Loves You", and the fact that they asked is the reason why: to start conversations! Unfortunately we had massive rain today and more is supposed to fall tomorrow. This keeps the crowds away. But after the rain it is to turn cool and will be great fair weather. So maybe we'll have lots more opportunities to share the message with others then.
I was at the booth from 9:00 to 2:00 today … and during that time I thought of some fantastic blog topics. Unfortunately I can't remember any of them. Maybe I should write them down.
On a technical note, if you would rather HEAR my blog than read it, you can now either add it to your iTunes or listen directly by pressing the button at the top of the right hand column called ODIOGO. It's a computerized voice and can seem robotic at times, but I think it's pretty intuitive and sounds pretty good.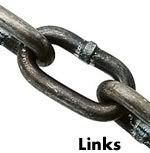 New post at Fall Friends.
Terry Rush proposes some positive moves all churches might consider!
Internet Monk identifies 13 Critical Problems Facing Evangelical Churches. I can see many of them challenging Churches of Christ as well.
Dusty issues a challenge; Donna accepts. This will be great either way it goes!
Authenticity is comfortable in small groups.
Larry James on the astounding numbers in the homeless population.
Thanks for stopping by!
john