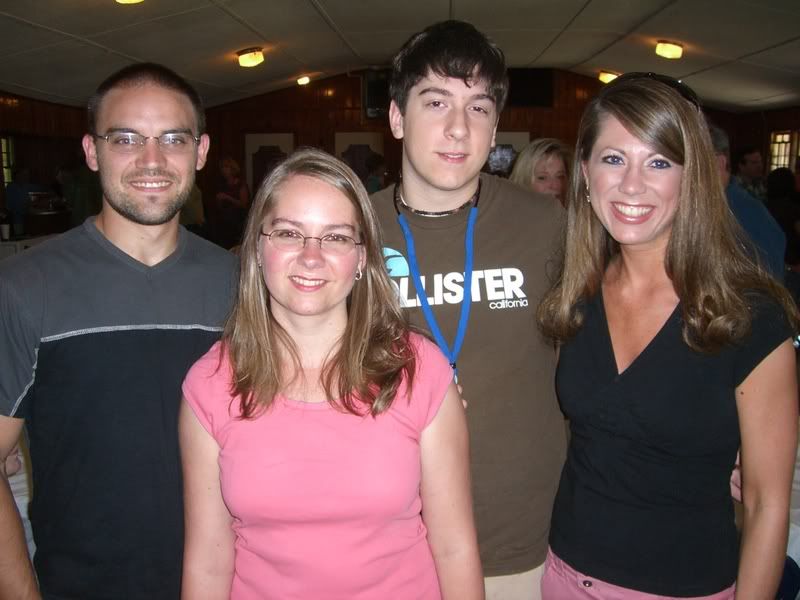 Robert, Nicole, John Robert, Raychel at last year's family reunion. We didn't go this year.
John Robert is everywhere. I know that I will come to regard that as a sweet blessing, reveling in memories of his love and joy. But that is yet to come.
It's not like I want to escape his memories, not at all. I am more afraid of forgetting them. But there is intense pain associated with those memories. Those who have walked before me have assured me that the pain will become different … a welcomed remembrance.
A hundred times a day something makes me think of him. The calendar has many reminders. Saturday will be the 21st, the day he died in the May of 2008. Eating in a restaurant I'll think of what John Robert might have ordered. Looking for a new home today we were in a house that had a jacket laid across a chair – a jacket just like his. Who's wearing a jacket this summer? Walking by the spare bedroom in the apartment, knowing it was John who last slept in that bed.
And grief just has it's own schedule, not mindful at all of my own desires. Today VBS wrapped up at Forsythe with a hamburger and hotdog dinner for the kids and their parents. Maggy and I drove up to the parking lot, which was full. And for some reason I could not make myself go in … it suddenly became very threatening to me … so we went back to the apartment and enjoyed some leftovers of the good food brought the day before. I felt silly … but relieved when we drove away. I am not sure why. I'm not sure what Sunday morning holds for me either.
Thoughts of John Robert intrude most strongly in the evening … when the events of the day subside. And especially as I try to fall asleep. A 'movie' about John's last hour keeps playing, and I'd rather not discuss the details … but it plays over and over. I have begged God's Spirit to make it stop … to take my mind somewhere else… but most nights…even with medication…it just keeps playing until I can't stay awake any longer…long into the night. The other night as I was praying for God to make it stop, Scripture fragments came into my mind. 'We are more than conquerors… neither life nor death…can separate us from the love of Christ'. And even though I couldn't remember all of it…I just kept my focus on those words and I drifted off to sleep in assurance of His love
So John Robert is everywhere. Would I have it any other way? Yes, I'd like to have him here with me in person. But short of that, I will want to keep him alive in my heart. I know he is alive with God, I am assured of that. And it helps. But nothing … nothing I've found … can take away this empty pain in my heart.
A look ahead … we hope to worship with Forsythe this Sunday morning. Our Realtor has let us know that there will be a 'preview' at the house Tuesday. So we will have to head back Sunday afternoon and spend Monday getting the house ready for that. It's kind of an open house for realtors to take a look.  I expect it will be difficult to enter our house again. But only with God's help can we take even one step each day. Please keep praying for us. I think that's the only thing that's kept us moving.
Love,
John