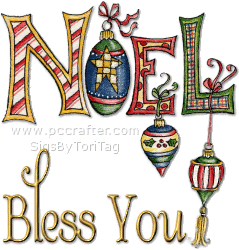 It's Christmas Eve … a long awaited night for children who believe that they are going to get a pile of gifts in the morning (whether or not they believe in Santa). It is also true that there are many children who will receive nothing in the morning for various reasons. I hope all of us have done what we could to be a blessing to others. Whether you gave as a group, individually, or both … God sees every penny given to relieve the suffering and loss of His children.
Tonight as I got out of my truck at the grocery store I noticed how quiet it was. The crowd was in a hurry,  the cars were circling looking for close parking spaces, but something was missing. The bells. The bell ringers have asked for as long as they planned. Opportunities to serve others have quieted and we are left to our own on this Christmas Eve.
Last night we enjoyed a service called Candles and Carols at Forsythe Church of Christ. We had a beautiful centerpiece and candles aglow while we sang familiar hymns, had readings and prayers, and watched a couple of short videos. This was followed by a feast of jambalaya, salad, bread and desserts (of course!). We had a good crowd and spirits were merry and bright.
Today Maggy and I made an early run to the grocery in between thunderstorms. Later we, along with Mom, enjoyed a gracious and delicious dinner at the home of the Burkett's. David and Sharon have been a bedrock of support for my family. I will never be able to repay the debt of gratitude I owe them. We spent three or four hours there, never wanting for conversation or food. Quite a blessing. As we came home all we could do was rest. The shopping has been done … I think we've worn Mom out. At different times during our day church members brought by gifts, mostly of food. Did I mention we have plenty of food? The kindness has been so sweet. And even with all of our activity we had to turn down an enticing invitation to go to the Barnard's this evening … but we just couldn't do it.
It is a different kind of Christmas Eve than I remember. Our daughter and her family are with her inlaws in Georgia. So it's just three adults here … resting quietly … having already figured out that we have no need to prepare supper. We couldn't eat it if we wanted. There is a fire going in the fireplace. There are no toys to assemble, no children begging to open "just one" gift, no noisy Christmas movies. On Demand has a few channels with wintery scenes and Christmas music. Perfect for us. We have no plans tomorrow. We just want to be at rest.
I know that sounds like three elderly people, not three young and vibrant and (ok I'm stretching here) energetic people … but I think we're all just doing our best to keep our head up. The trees are lit up, there are still some presents to wrap.Your Christmas Eve might be quite different. For some of my friends there is an unexpected white Christmas. For others there are parties and big crowds of people. For others there are family gatherings with lots of memories being shared.
And I'm sure for some there is a solemn and lonely kind of quiet. For you, and for all of us, I remind you that the angels of heaven rejoiced at the news of His birth. And all these centuries later, something still resonates with our hearts about that. If you listen I think you will hear it. Let it not be distant, but near. Because He is.
Thanks for reading,
John