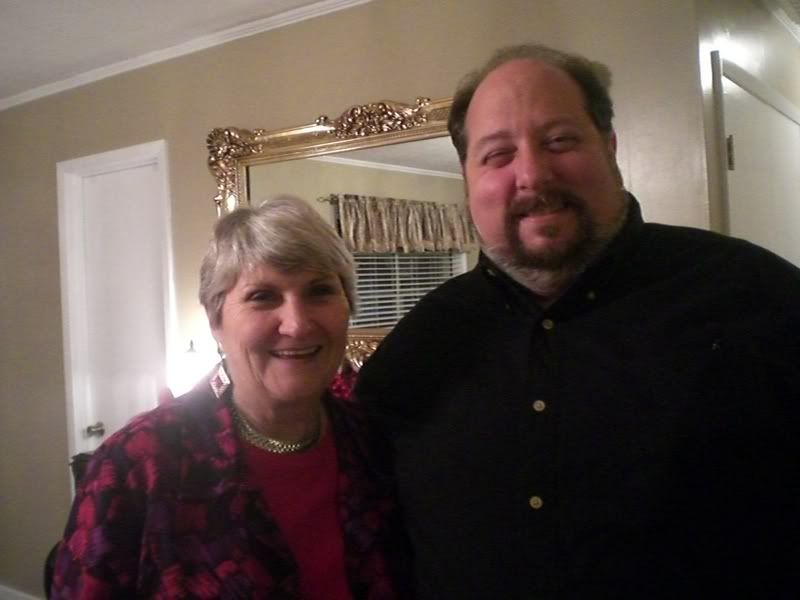 Bobbie Lowe and John Dobbs on New Year's Eve
 Here we are in 2007, fresh from fireworks and feasts. Some of us still have Christmas trees up, others have put them away for the next eleven months. It's hard for us to remember the gifts we received. Most will head back to work or school tomorrow. Even as we look ahead with anticipation to the new year, we face the realities of today. Life as we knew it in 2006 isn't much different so far. I will be reverting back to the South Beach Diet tomorrow after a holiday hiatus. That is at once exciting and depressing. Hey… that's just the truth. I'll try to focus on the exciting part.
On New Year's Eve we were invited to a small dinner party at one of our member's home in the country. I enjoyed so much sitting on the porch with Sonny Lowe and friends listening to them talk about old times and share memories. Bobbie had prepared a fabulous feast that I enjoyed too much! The Lowes read the blog often and they have been such encouragers over the years to me and to my family. Bobbie is so talented in so many ways. A holiday season doesn't pass that she doesn't show up at church with festive holiday clothes and all decorated up in such a way that it causes us all to feel like celebrating. As a cancer survivor, Bobbie does a compassionate and effective work with Camp Bluebird – a camp for those who are experiencing the dreadful disase. It is staffed by survivors and exists to give hope and cheer to the ill and downhearted. God has created in Bobbie the perfect person to do just that. Sonny says that all I ever write about on my blog is eating. I wonder what he'll think about this post! ha! They have been members at Central for more than forty years.
After coming home from the country we went to our daughter and son-in-law's home for some snacks (how was I supposed to eat more!), sitting on the couch with granddaughter Claire while we watched one of the worst movies ever made – The Cat in the Hat! But it was Claire's desire to see it, so we suffered through. Robert had some fireworks ready for midnight and we enjoyed those as well.
New Year's Day was a day for sleeping in! The Boswell's invited us over for some black eyed peas, cabbage, corned beef, and some other things. Maggy and I just nibbled a bit there, knowing we were having the kids over for supper. We plan to watch 1988's She's Having A Baby. Nicole is carrying their first child together, which is going to be a boy. Joshua Blake is due in mid-February. So we thought it would be a great movie to watch together.
The reality of our daily lives caught our attention today as one of our elderly members passed from this life. Thurman was a wonderful man who always wore a smile. These past few years have been very difficult on him without his beautiful Sally, who was taken from us by cancer. She was never far from his mind and he spoke of her often. Sally was a marvelous Christian lady. Her dream was to see Thurman restored to faithfulness to the Lord before she died. She was so relieved when he turned his life back over to the Lord. And that is a comfort to those of us who remain. Thankfully, he did not suffer a long illness and passed peacefully. Please say a prayer for his daughters and their families.
I'd like to wish my Aunt Sissy a happy birthday. My mother tells me that her sister is 70 today. I think that's awesome. She doesn't look a day over 66. I actually haven't seen her in several years and I would like to fix that sometime this year.
***Links***
I do not have many links tonight, but be sure to read Tim Archer's post for today.
Bobby Valentine says 'Goodbye' to the land of beer and cheese.
Justin Buzzard points us to some Bible reading plans available on the internet.
Here's a short video of Claire enjoying a  sparkler on New Years Eve.
[youtube=http://www.youtube.com/watch?v=aqjUxJA9VpI]
Oh, and my mother didn't really say her sister was 70 today. I just wanted to create some family drama!