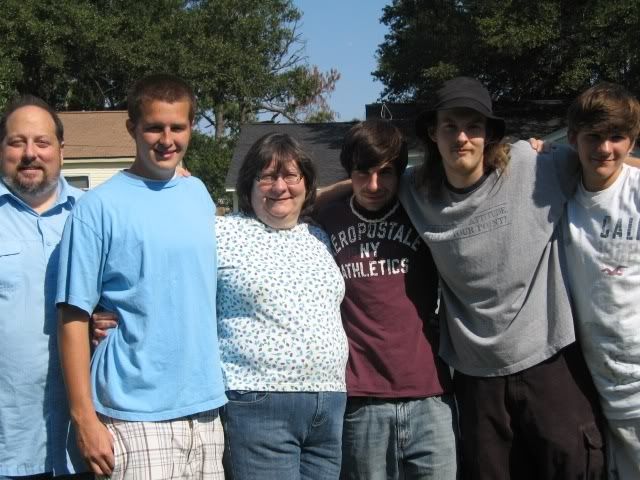 John, Jordan, Maggy, Colton, Will, Patrick
Yesterday we had a great visit with some of John's closest friend. It was so good to see these young men that I still think of as boys. We were able to catch up on where they are and what they're doing these days. We all rode in the Titan to Big R's, a local eatery that John Robert liked.  Maggy and I met him many times there right after he got off of work, since it is just around the corner from Burnham Drug Store. I enjoyed hearing them joke with one another and talking to them about movies we've seen or haven't seen.
Jordan and John Robert were like brothers. I don't know how they could have been any closer. And he was just as close to Patrick. They went to school together from the first grade on through to the last days of High School, and would have graduated together. In the early years there were four: John Robert, Patrick, Jordan, and Donovan. Donovan moved to another part of the county. I believe he left me a comment sometime since John died … I'll go back and look sometime soon. AJ was very close to John as well. He is at Mississippi State now. Colton and Will are friends who go to other schools but were a part of the close knit group at Central Church of Christ. John Robert loved spending time with all of these young men. Classes, trips, school, camps, retreats, and Waffle House have these boys linked together forever.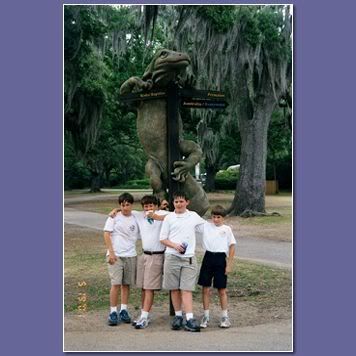 John, Jordan, Donovan, and Patrick years ago at Audubon Zoo
When we got back to the house there was a migration to John Robert's room. After sharing a few of his belongings with them, the room got quiet. It was one of those moments when there aren't any words … nothing really to say now. Maggy hugged each of the boys and told them that she loved them. We stood there crying in our silence, missing John Robert each in our own way. It was a special moment … bittersweet.
I hope that we will see these young men over the years. I hope we will stay in touch and that we'll know their wives and children. I hope we'll eventually be able to share stories about John Robert without falling into that awkward silence of pain and sorrow.
Haley, John Robert, Colton, Jordan, Patrick at Hank Aaron Field in Mobile, Alabama
But if time and distance separates us, as it sometimes does, I will always think that yesterday was a gift. In the middle of packing all of our belongings, we unpacked some memories for a period of time.
Thanks for reading,
John