Today was my dad's funeral. Les Ferguson, Jr. officiated, and did a great job. Les' father, Les Ferguson Sr, baptized my grandfather just before his death. Les Sr was preacher at Warrenton Church of Christ in Vicksburg for many years, and members of my family attend there. The Fergsons are distant cousins of my wife Maggy (you'll have to ask her dad for the complete story there. Expect it to be embellished – which he has down to an artform.) Les Jr and I met at Magnolia Bible College when I was 17 years old. At that same time I also met Danny Dodd at MBC. Danny read a scripture and led a prayer during the funeral service.. Bill Collins drove them to the service. Mike Riley, an elder from Forsythe, led a prayer with the family in the parlor just prior to the service. We had a beautiful arrangement from Forsythe. My neighbors Roger and Pam and friend Wynona came from Pascagoula.
And then there was a flower arrangement and a plant that said this on the card:
Although it's difficult today to see beyond the sorrow, may looking back in memory help comfort you tomorrow! We wanted to express to all of you how strange love is and how small a world can be, when god is involved. Love is all there can be! May God bless you during this time. From all your friends around th world, the Christian Internet Community: JMSlater, Stimple, Wendy, RednGreen, Kat, Treymorgan.net, John and Paula Harrington, Tommy Dublin, Lacey, Vivian, Cecelia, Sarah, Jim, Horace Hooper, Alice Lafferty, Lisa4man, Greg & Amanda Sanders, Gallagher, Brian Nicklaus, Tucker, Nick Gill, C3, John Pease, and many more who love you.
That was totally unexpected! I know my friend Tucker was behind it … but I also know that the many comments recieved here, on Facebook, Twitter, and in personal e-mail have let me know that we are not alone in our sorrow.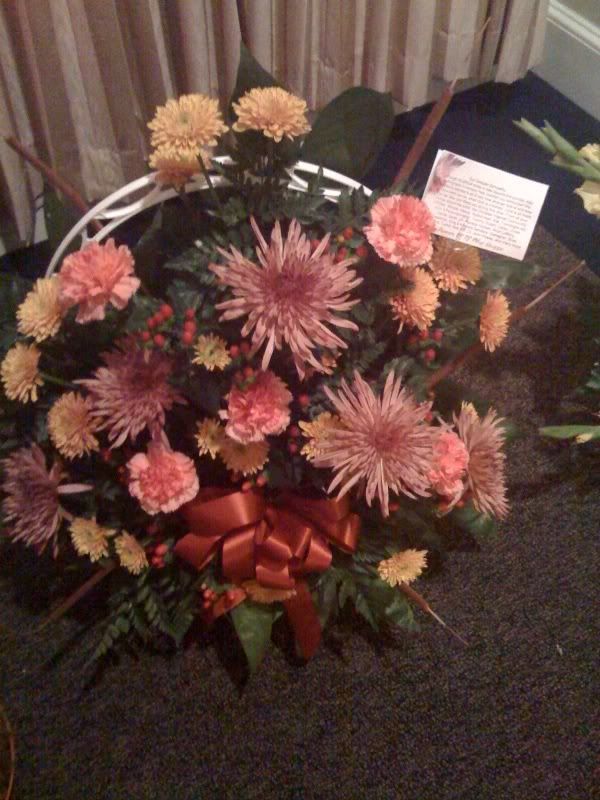 Flowers Sent From Internet Community Friends!
It has been a hard day … and as hard as it was for me… the burden was multiplied for my mom and stepsisters. We will miss Harold in so many ways. Today a TVGuide arrived, and I wondered if anyone would bother to fill out the crossword. That was always Dad's job. Now mother will enter a new stage of life. She was married to Harold for almost 28 years.
Speaking of new stages of life, we now have a new President-elect. It is our privilege to elect our own leaders. The past few elections have been close, this one was not so close. I am glad I lived to see the day that an African American can ascend to the highest post in the land. I do not have to agree with all of his policies to be grateful for this cultural progress. I am  hopeful that there will be improvements in our land. And as Scripture instructs, I will pray for Barak Obama. I will especially pray for his family … as he is a daddy to two beautiful girls … and even girls who have Presidents for daddys need a real family. I don't know what it's like to grow up in the White House, but I bet it has special challenges. I will pray for our country … and all the leaders of the world. If those who lead all of the countries cannot find a way to coexist, then there will always be turmoil. As we head into the holiday season, we should all pray for peace on earth. Welcome to my prayer life, Mr. Obama.
Maggy's Mom Update: Maggy's mom came home from rehab today. She still has to go in to rehab each day, but she can now be at home.
I hope you are all doing well. Thanks for your many encouragements. Thanks for reading.