Reprieve: to give relief or deliverance to for a time.
Today, for the first time in three weeks I felt like myself. Cecil and Patti May gave us a wonderful gift today. They planned an outing … a long drive through the mountains … a picnic … and a meal in downtown Ashville, NC to top off the day. It was a fantastic day. Though John Robert was never far from our minds … and our conversations … we focused on good and happy memories while we enjoyed spending time with dear friends. I took over 80 pictures that can be found HERE. Of course I want to share a few with you here!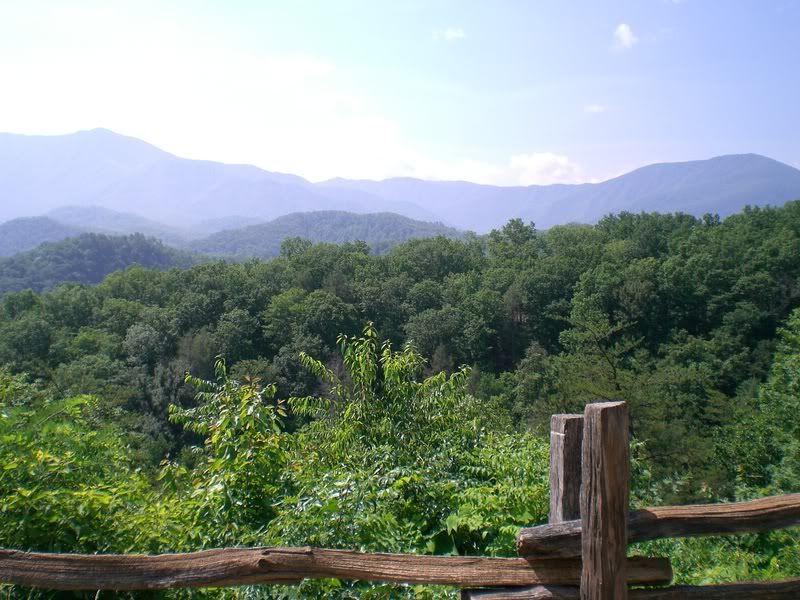 The Beautiful Smoky Mountains of East Tennessee. You wouldn't believe how cool it was in the higher elevations … almost cold. The weather today was perfect for this outing.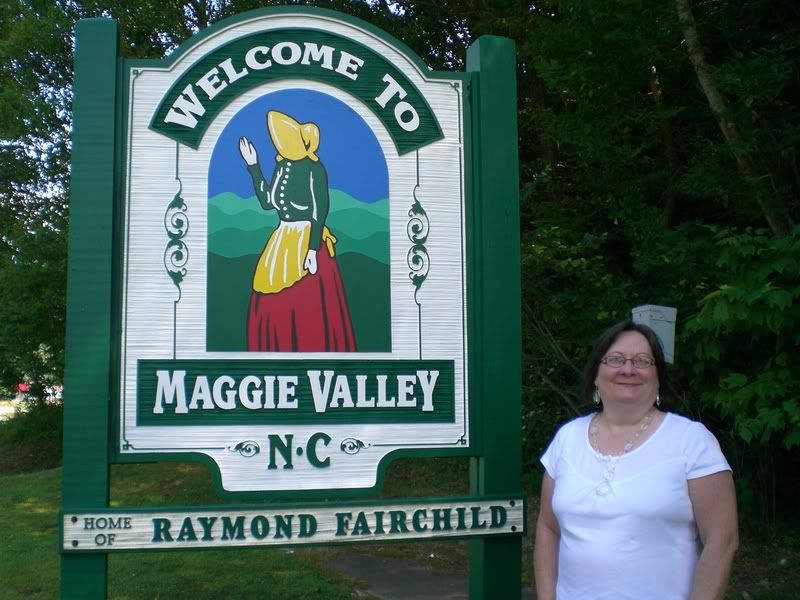 Maggy in Maggie Valley. No idea who Raymond Fairchild is.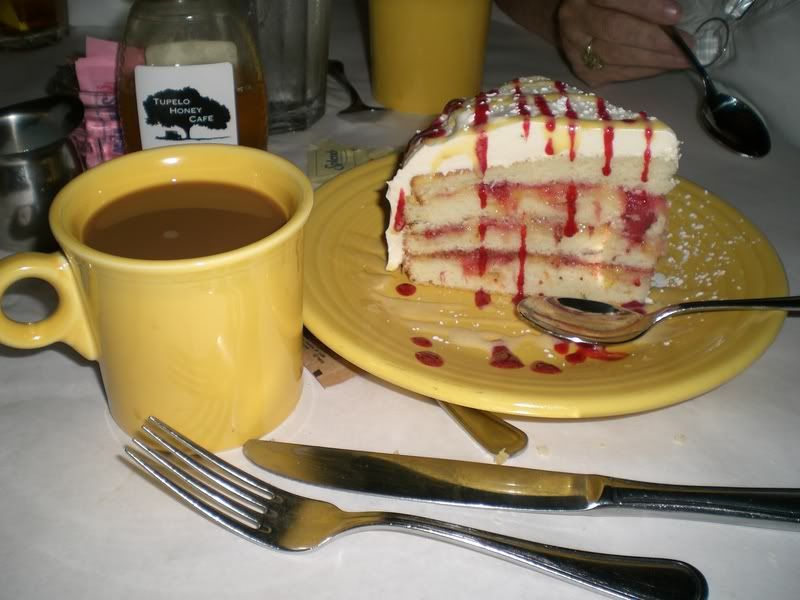 Dessert at the Tupelo Honey Cafe. I won't tell who ordered this.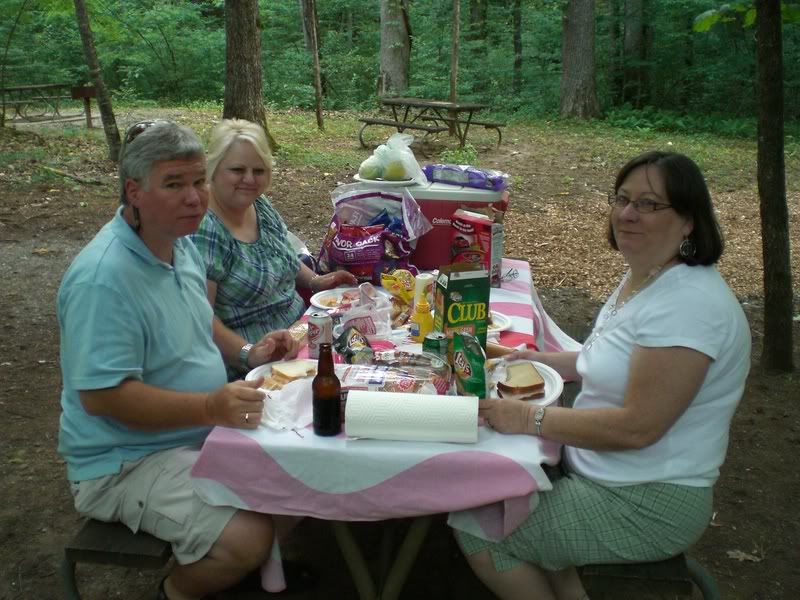 Cecil, Patti, and Maggy at the picnic prepared by the Mays! Yes, that's a ROOT beer on the table!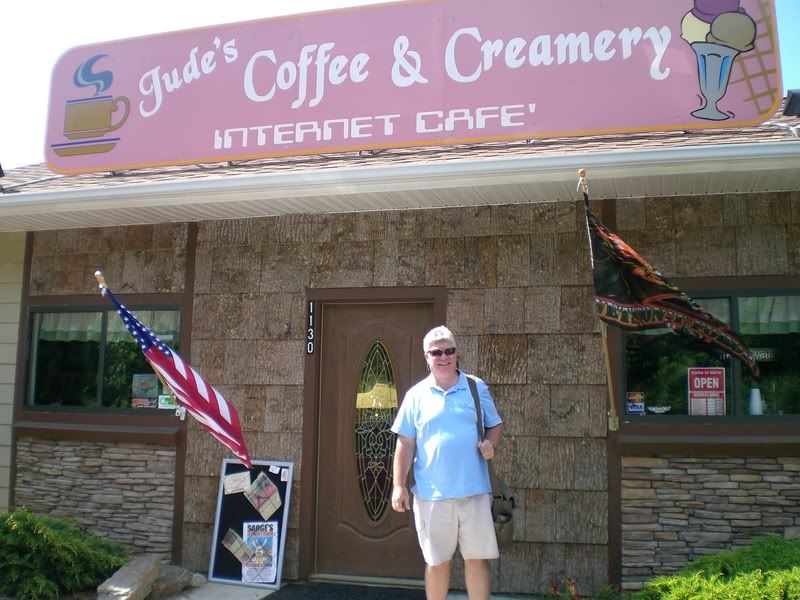 Cecil headed into Jude's Coffee and Creamery. We weren't far behind!
—Oh…and a few videos I took today.—
[youtube=http://www.youtube.com/watch?v=lTZQc8VBxeI]
Downtown Ashville there was some kind of street percussion party going on!
[youtube=http://www.youtube.com/watch?v=bkUYMQn4cbM]
This silver painted mime was downtown Ashville as well!
_______
My friend Linda asked about the restaurants we've eaten at, and our thoughts about them. She and her husband are arriving Monday (the day we leave). So I offer my opinion on some of the places we've dined since our arrival at Pigeon Forge last Saturday.
Apple Barn complex has two restaurants, a winery, cider mill, candy store, Christmas store, and a big general store with everything "apple" that you could conceive. At the Cider Mill you can get fried apple pies that are fantastic. They have a few other things, but get the fried apple pie. We had a late breakfast at The Farmhouse Grill, which is the first restaurant in the complex. The food is good. Their 'bread' is apple fritters with apple butter to dip them in, served with an apple julep. Yes they go overboard on the apple stuff, but it's all good. The service is good and the food is good, and the prices are higher than I would expect to pay for the same food back home – but here all the food is a notch or two higher.
Calhoun's Best Ribs in America. We didn't get the ribs, but the pork bar-b-cue is not the best in America. It was not even very good. Neat looking place to lure you in, but resist the temptation! There is Walden's Landing next door where there are some nice shops and a putt-putt course. THESE REVIEWERS seem to have had a better experience for the most part than we did.
Krispy Kreme. We tested … and yes … they're just as good in Pigeon Forge as they are everywhere else I've eaten them. I know my brother in law Johnny will want to know that. On the same note, Cracker Barrel is just as good in Pigeon Forge as everywhere else!
STAY AWAY! WARNING! There's a Mexican place on the 411 / parkway corner next to Shoneys. I can't think of the name of it … but don't go there. The chips were stale. Their ranchero sauce was more like tomato sauce … stay farrrr away!
OLD MILL. The Pottery House Grill is part of the Old Mill complex. I can recommend the Pottery House Grill wholeheartedly. Great sandwiches, salads, quiche and desserts. Excellent atmosphere, eating off of pottery made on the premises … lovely garden if the weather permits outdoor eating. The Old Mill restaurant gets just as good a review. Country cooking, more food than you can eat. It is crowded, so arrive earlier than you want to eat. We had a 50 minute wait. You can go to the Old Mill kitchen store and buy some of the food sold in the restaurant…to make at home (and sample a bunch of other goodies).
Blue Moose Cafe … Burgers and Wings … GREAT! I had the garlic honey wings and Maggy had the junkyard burger…both were fantastic.

Cobbler's Coffee House and Bistro has outstanding sandwiches, desserts, coffee beverages. Great atmosphere and not crowded…it's downtown Sevierville. While there visit some of the area shops … super nice people. Meet Patty at Glass Illusions on Bruce St.
I'm not sure any of them were as sweet and warm as Patti's picnic lunch she prepared for today.
What a LONG post. I should be in bed asleep. My head got sunburned today. Just thought I'd share.
Your continued prayers mean a lot to us. Perhaps today was an answer to prayer … a respite from sorrow. We are not silly enough to believe that sorrow is gone … but for a day of relief we are thankful.
Thanks for reading,
JD