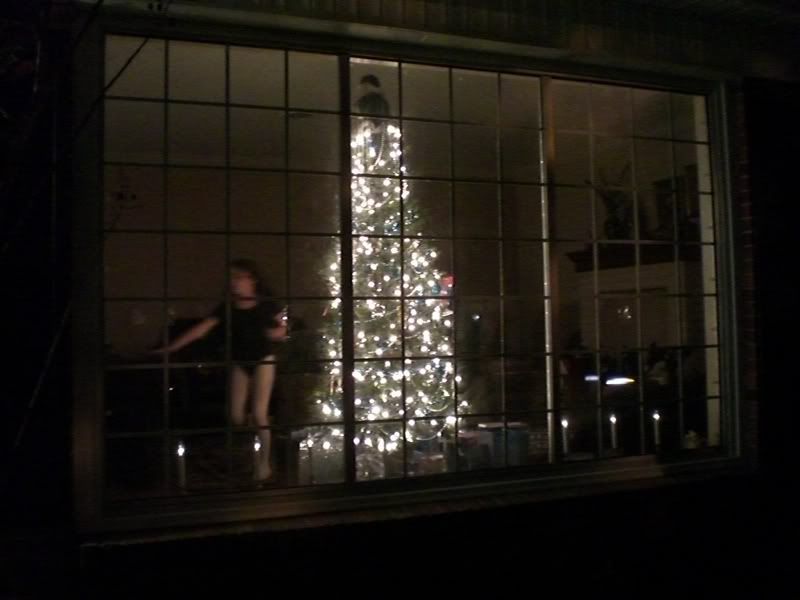 From My Front Yard Last Night, Catching Claire Dancing By The Tree.
 Welcome to Sprinter. Yes, it's Winter, but it feels like Spring. Unbelievable. Just a few days ago we had freeze warnings. My outdoor plants are regretting my thought that they will be OK without any special attention. They are looking quite like Fall …brown leaves and everything. What a seasonal mixup! Weather.com affirms that this will be our weather pattern for the next ten days. Even our trip up to North Mississippi this weekend will not bring us any cooler temps. This kind of weather brings out the Grinch in me! And speaking of weather, Dr. Gray has turned over Hurricane predictions to his apprentice, and they have already published their first prognostication. I'm not even going to link it. Come on people. Don't we get tired of these dire predictions? I just pray that we have another season like 2006. It's too soon to even be talking about this!
Tomorrow we will have another crew from the Eva Church of Christ. These wonderful people have been here so many times. They are not from just around the corner, either. We got a nice letter from a couple who came with the last crew. It was their first time. They were really touched by the people they helped. I talked with a young lady associated with AmeriCorps a few nights ago. She related that when they got here, they were feeling a bit like they were not really needed. That is, until they went into some of these houses and realized the uphill battle so many elderly people are fighting. She was very moved.  On our side of things, it's hard to imagine how it is that so many people have come our way over the past several months. On the other side of the coin I hear all the time about how volunteering here has affected people in a positive way. The group from Eva will be here a few days and then head back home. They have been here often enough that they do not need much instruction. They arrive, work hard every minute they can, and then head home. I hope to visit that congregation one of these days. I've already seen what kind of heart they have.
 I did finally get my latest sermon up on the podcast located HERE. I had a lot of trouble this time … not sure if it was on my end or Podomatic's. Anyway, the sermon is 'Three Christmas Gifts for God' from Micah 6.
 I mention Robbie Woods from time to time. Today marks one year that he walked into the church building with nothing but the clothes on his back. Today he has his own apartment, a job, and is sober. I celebrate this anniversary with Robbie and look forward to great things from him in the future.
Well, it was inevitable…but it happened yesterday. I was in the store and I was enjoying a great rendition of Silent Night by Stevie Nicks … awesome. And then like fingernails scraping down a chalkboard … it came on the speakers. The dark demon of Christmas songs, Santa Baby began to play. I not only dislike this song, I despise this song. I wish I could think of a reasonable reason why … but … I can't. It just grates on my nerves.  Is there a Christmas song you hate?
***Links***
Oreck to close it's Long Beach plant. Another victim of Katrina, the plant will move to Tennessee. 400 people will lose their jobs.
Laugh and the World Laughs With You. Really.
Danny Dodd writes about the 'Me Generation'. I was unable to leave a comment all day because Blogger is having some issues. (And no whiney complaints because I pointed out that Blogger is down … they have troubles…we all know this!)
Wade Tannehill ponders the church celebrating Christmas.
Patrick Mead writes a post about a hero, and it is a Must Read.
 Thanks for reading!