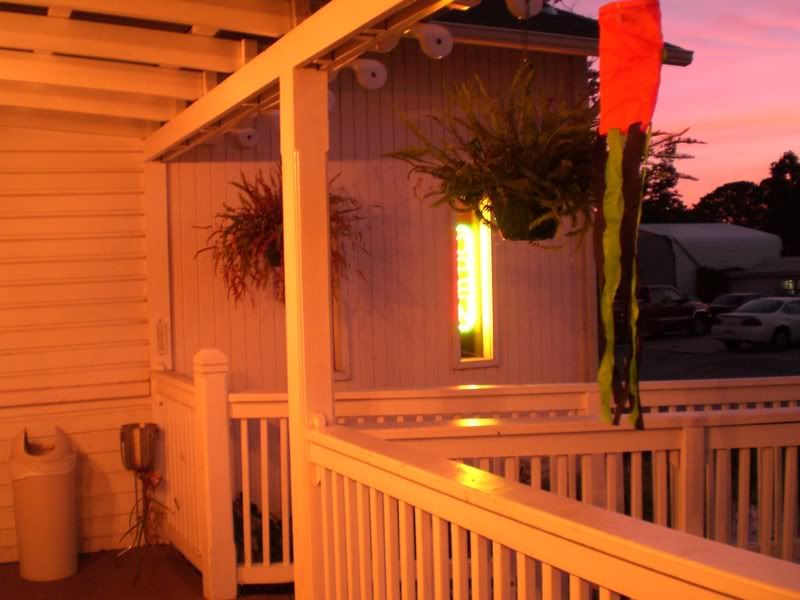 -Sunset on Dough Joe's Coffee Shop Porch-
 It's been a busy couple of days around Central. We have moved a bit further in our building repairs. Paul England and crew worked on our overhead lights and got them in good shape. Elsie England painted a good bit in the foyer. We've ordered our screen for the front of the auditorium and set in motion the shipping of carpet samples and chair fabric choices. It is very exciting to see all of these changes coming about so quickly.
We had a good night tonight as we gathered together for the Central Family Devotional. One aspect that made this such a great night was Colton's baptism. Colton and a friend of his met with me last week to talk about being baptized. Colton decided to go ahead and be baptized tonight. He has a great heart and I think he will be a big asset to our youth group and the church as a whole. He was brought by some friends who are members at Central. The powerful testimony of friendship is a great way to share the good news of Jesus Christ with those we love. Anyhow…we rejoice with Colton and those who have been bringing him to church with them. There are pics of Colton and work around the Central building on my picture page (linked to the right).
I know it's trivial, but what's to like about DEAL OR NO DEAL? After all, it's a very slow game with overdone musical cues and fancy lighting. What's up with those shiny attache cases everywhere? And the fabulous models…come on … who can do better than Vanna? Ultimately it's a greed-controlled game where greed is cheered on. Howie Mandel is supposed to be funny, not a hairless somber toned mercenary for 'the banker'.  So, I'm going to just have to watch this relentlessly to see if they change any of those details to please me. Until then I will continue to try not to like this show.
Some have asked about my health, a dangerous thing to do these days. I'm getting quite a list. I have some kind of veinous problem in my left leg that seems to be flaring up more and more often. It is accompanied by nausea, fever, and sometimes tremors. I went to the doctor yesterday and they did an ultrasound to confirm that I had no blood clots. I'm taking an antibiotic and they did a blood panel. Next week I'll see a vascular specialist to see if he can recommend any permanent solutions. In the meantime I'll meet with the surgeon for a consult on a possible carpal tunnel syndrome surgery. I'm only 42….and falling apart already!
Join in some ongoing discussions….
Danny Dodd says it's all about Presence.
Greg England tells us how to make someone's day.
Bobby Cohoon reflects on a time when it could be too late.
John Alan Turner asks about the location of our treasure.
Wade Tannehill longs for a church without walls.
Peace from a picture? Ask Dee.
Tommy Dublin's Wife Carrie Starts a New Blog.
Tommy Dublin Gets Himself a New Blog!
Thanks for reading. My yawns are telling me it's time for bed. God bless you richly!