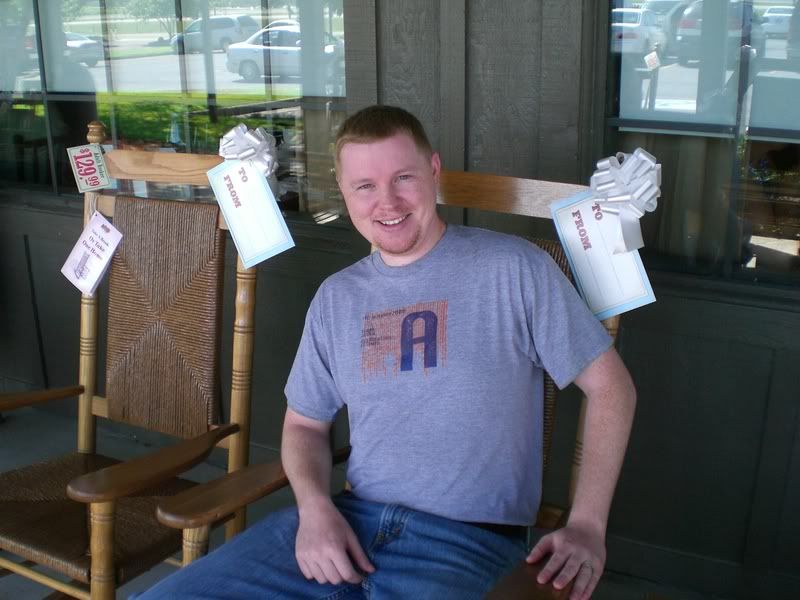 Gilbert Kerrigan at Cracker Barrel
My Saturday got off to a great start. I met fellow blogger Gilbert Kerrigan at Craker Barrel for breakfast and conversation. Gilbert's blog is A Disciple's Journey. Yes, I did ask Gilbert what we'd have to do in order to get him to blog more often! Gilbert is the Senior Minister for the Elmwood Church of Christ in Lafayette, Indiana. We had never met, but look forward to meeting again. He is from this area, and still has a lot of family here. So, they visit Ouachita parish occasionaly. We had lots of good conversation that was both personal and ministry related. I hope we'll get together again next time he is in town. Maybe he'll preach for us at Forsythe next go-round.
I got a new one today. It said, "Dear friend, I have a project I want you to run with us. It involves exportation of 100,000 barrels of crude oil daily from Kirkuk, Iraq.  If you are interested, email me. Mr.Yan" Mr. Yan must not realize that I do not have a place of my own, much less somewhere to store 100,000 barrels of crude a day. I mean, what would I do with it? If i could produce my own gas and sell it for $2 bucks a gallon I could make a quick fortune. But I don't know how. Mr. Yan, if you read my blog, please go ahead and find another lucky guy to handle your crude. Or, I can put you in contact someone in Nigeria who would be happy to send you a million dollars just for handling a bank account.
Tomorrow it is my plan to preach at Forsythe for the first time since John died. I told a friend today that I feel like it's the right time because I'm not anxious about it. This Family of Believers has made things such that we do not feel under any pressure whatsoever. I'll let you know how it goes.
Thanks for reading,
john