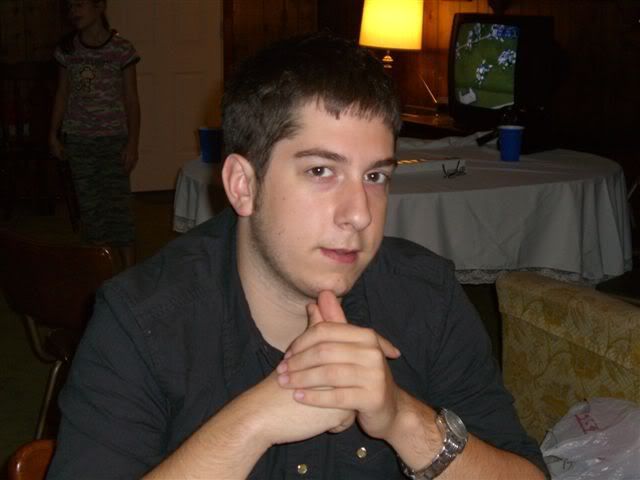 John Robert, Thanksgiving 2007, in Ruleville
I have not paid consistent attention to e-mail accounts in the past six weeks (yes, it's been six long weeks). I had let hundreds of e-mails pile up in both my yahoo account and my gmail account. So last night I started going through them, deleting all I could … replying briefly to those that needed a reply. Now I've whittled those hundreds of e-mails down to less than 70 e-mails in both accounts. That's starting to look managable. E-mails are like pieces of paper on your desk that might have a skant piece of information on them so you can't throw them away, but they begin to accumulate quickly!
In the e-mails there was one from my brother and sister in law, Carol and Johnny, that contained some pictures from last year's Thanksgiving get-together. In those pictures I found the one above… what I consider to be a great picture of John Robert. I'm so glad I didn't delete that e-mail several months ago.
I have several CDs to go through of camp and retreat pictures and I'm certain there are several of John in there. I will get to that as time passes.
Today Maggy and I traveled with Mike and Mignon Riley to the funeral visitation of David Burkett's stepdad. David has personally been such a part of our process of dealing with John Robert's death and we wanted to be there for him. He and Sharon have been at the funeral home twice in the past few weeks with family members. They are lovely people that have come to mean a lot to us. Unfortunately it felt a bit too soon to be in a funeral home. No matter how many flowers we send or how many people there are to bring cheerful encouragements … there's still a casket and still a loss. We did not stay long at all, it was just too hard. I'm glad we went … and maybe as time goes by we will be of greater service in loving others in these settings. For now, it's tough.
It's July 4th (didn't you know?) and we have a thunderstorm rumbling through the Monroe area. It's just gotten dark and perhaps some of the "thunder" are the booms resounding from fireworks on the river. We're all comfy in our apartment and satisfied to be so. Many a Fourth of July we have been on Beach Boulevard with John Robert watching the fireworks show in Pascagoula. He always wanted some low-grade fireworks to shoot off at our house. I wonder if he can behold the fireworks across the nation tonight in a brand new way? If he can, I know he's loving that.
Maggy and I spent this afternoon driving some backroads of our parish, enjoying the scenery. We are spending more time together than ever, and that's a good feeling for me.
Thanks for reading,